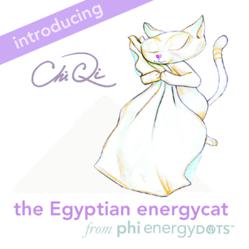 Scientists are increasingly concerned about the harmful effects of mobiles and other electronic devices. ChiQi products offer relief from exposure to these signals.
(PRWEB UK) 27 October 2011
ChiQi is a baby comforter with a difference. Each beautifully designed organic cotton product contains a small energy disk called a bioDOT*. BioDOTs hold and continuously emit a soothing natural energy vibration. This supports the baby's own energy field which is far more vulnerable to the effects of the high tech wi-FI world around it.
Signals from mobile and cordless phones, computers, baby monitors and wi-Fi are known to compromise the energy field and stress our bodies. Scientists are increasingly concerned about their harmful effects on our long-term health.
ChiQi products offer continuous relief from exposure to these signals (electromagnetic radiation). Keeping ChiQi close, the baby will experience effects similar to an adult wearing a bioDOT - improved sleep, a sense of calm and greater resilience in today's challenging environment.
ChiQi is presented in the shape of a little Egyptian cat. Phi harmonics are producing a series of stories about the adventures in the magical world of ChiQi which will be available to buyers to read to their children.
The energyDOT range is the result of ten years research and development by Phi harmonics Ltd. Charles Caudle, Director, points out that, "Although this can help anyone using a mobile phone, one of our major goals is to offer protection to the 'passive smokers' in all of this - our children." Although an electroDOT gives protection from mobile phone frequencies, a baby is surrounded by radiation from many sources - wireless phones, wiFi routers, microwave ovens, baby monitors and so on - and the bioDOT in ChiQi will help harmonise all these frequencies with the baby's individual biofield.
ChiQi is depicted on Stand D52 at the Baby Show for Trade at Olympia from 16-18 October 2011. She will be in full production from January 2012.
For more information and to understand better how energyDOTs - and ChiQi - work,
please call Lucy on 01803 782008/07877 416429 or email lucy(at)phiharmonics(dot)com. She will be on the stand throughout the exhibition.
*One of the five energyDOTS™ http://www.phiharmonics.com
###