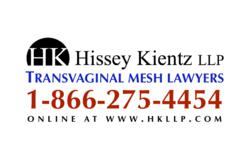 If you or a loved one received transvaginal mesh and have experienced pain or other complications, you may qualify for a lawsuit.
Austin, Texas (PRWEB) October 27, 2011
The law firm of Hissey Kientz, LLP is announcing the launch of its new website, Transvaginal Mesh Lawsuit (http://www.transvaginalmeshpatchlawsuit.com/). The site will serve as a source for legal news and medical information for patients who have experienced complications caused by surgical mesh used in transvaginal repair surgery.
Transvaginal mesh is a type of surgical mesh device which is used for the treatment of pelvic organ prolapse (POP) or stress urinary incontinent (SUI). Versions of the patch are manufactured by several different companies, including Johnson & Johnson, C.R. Bard, Boston Scientific and American Medical Systems (AMS). According to the Food and Drug Administration, about 80% of surgeries for SUI and 25% of surgeries for POP are performed using transvaginal mesh.
The FDA has issued several warnings about the risk of complications from transvaginal mesh. In September 2011, an FDA advisory committee recommended that the product should be given a stronger warning label due to the risk of side effects from the device. The committee was charged with reviewing the safety of transvaginal mesh after the FDA learned that reports of complications from the device had a five-fold increase compared to the previous three year period.
According to FDA data, the most frequently reported complication of transvaginal mesh is vaginal mesh erosion—in which the skin tissue becomes split, allowing mesh to protrude into the vagina. Other commonly reported side effects of surgical mesh include pain, bleeding, infection, pain during sex, urinary problems and organ perforation.
A number of patients who received transvaginal mesh to treat POP or SUI have required additional surgeries to correct problems with the device or to have it removed entirely. A total of at least 600 transvaginal mesh lawsuits have already been filed by patients who experienced severe pain or other complications from surgical mesh, according to Bloomberg News.
If you or a loved one received transvaginal mesh for the treatment of stress urinary incontinence or pelvic organ prolapse and have experienced severe pain or other complications from the device, you may be eligible to file a lawsuit. For a free legal consultation, contact the lawyers at Hissey Kientz, LLP by calling toll-free at 1-866-275-4454, or by emailing us at info(at)hkllp(dot)com.
About Hissey Kientz, LLP
Hissey Kientz, LLP (http://www.hkllp.com) represents individuals affected by complications from the transvaginal mesh patch, as well as victims of mesothelioma and other asbestos-related diseases, birth defects linked to the antidepressant drugs Paxil, Zoloft, Prozac, Lexapro, Celexa, Effexor, Xanax and Wellbutrin, DePuy ASR and Pinnacle hip replacement devices, Depakote birth defects, Actos bladder cancer, birth defects caused by Topamax, side effects from Avandia, Stevens Johnson syndrome and toxic epidermal necrolysis, acute myelogenous leukemia caused by benzene and other defective drugs and medical devices.
# # #