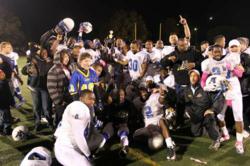 "It feels very good to win this and when we came back to the EFL this is what we hoped to accomplish," Albany head coach Chris Brown said.
Binghamton, New York (PRWEB) October 26, 2011
On a brisk Saturday evening the Albany Metro Mallers went into Syracuse and came away champions. A dominant first-half performance propelled Albany to 26-14 victory over the Syracuse Shock in the Empire Football League championship game at Sunnycrest Field. On a night where the players sang the national anthem and tempers flared, the Mallers emerged as the cream of the crop in the EFL.
"It feels very good to win this and when we came back to the EFL this is what we hoped to accomplish," Albany head coach Chris Brown said. "This was a knock-down, drag-out fight between us and Syracuse and we just happened to put enough points on the board to come away with the victory."
After a shaky start Albany controlled the entire first half. Except for an error on offense, Albany yielded zero points to the Shock in the first 30 minutes. With Syracuse deep in Albany territory Maller linebacker Greg Woodward forced a Shock fumble on the three yard line. On the very next play, Albany running back Sylvester Cooperwood coughed up the ball in the end zone and Syracuse linebacker Charmain Smith recovered it for the Shock touchdown.
On the ensuing kickoff, returner Donald Murdock, Jr. picked up a bouncing ball at the 18 yard line broke a few tackles and scooted down the Maller's sideline before crossing the field, taking it back 82 yards to even the contest at seven. With 7:18 left in the first quarter and plenty of fireworks Albany had new life.
"Instead of getting down, we regrouped and retook the momentum with one play and it brought our spirits back up," Brown continued. "All we could do is smile and get back to work on defense, which we did."
Late in the first quarter, a constant Albany rush forced a Syracuse punt. Do-it-all quarterback C.J. Tarver, the EFL's Player of the Year, retrieved the kick and returned it to the Shock 33. With great field position Tarver connected on two straight pass attempts to take the Mallers to the Shock three yard line as the quarter ran out. On the first play of the second quarter Cooperwood drove the pile into the end zone for the score. Early in the second quarter Albany possessed a 14-7 lead and all of the momentum.
"He's an x-factor," Brown commented on Tarver's role in the game. "There's no way to ever determine what he is going to do…he can run it, he can throw it. If you try to keep an extra man in the box he can throw it down field to our great receivers in Culture Branch and Ace Barnhill."
Albany was not done however, a poor punt by Syracuse set the Mallers up on the 45 yard line going in. Tarver hit receiver Culture Branch for 40 yards, giving Albany first-and-goal at the Syracuse six yard line. On the very next play Tarver scrambled around the left side for the six yard score. The extra point attempt was blocked, but Albany still commanded a 13-point advantage with 11 minutes to play in the half.
With less than two minutes left in the half and Syracuse backed up in their own end, the Albany pass rush forced another Shock punt. The Mallers defensive unit broke through the Shock line and blocked Grulich's kick. Set up at the Syracuse two, Albany took three plays to punch the ball in on a Tarver quarterback sneak. Tarver's second score of the game gave Albany a 26-7 halftime lead.
Syracuse came out motivated in the second half, facing a 19-point deficit, their largest of the season by far. The Shock forced a three-and-out on Albany's first possession, but fumbled the ensuing punt giving the Mallers the ball right back. Albany missed a 43 yard field goal however, as Syracuse's defense stepped up and did not relinquish any points off the turnover.
Following a Syracuse failed third-down conversion, head coach Ken Anderson called a fake punt to motivate his troops. Grulich received the snap and ran around the left corner coming up just inches short of the first down. A stout Mallers defense once again stopped a Shock attempt of getting back into the game.
"It starts with our front four," Brown noted. "They keep bodies off our linebackers and secondary so they can run free and make plays. Syracuse made a lot of good adjustments, but we continued to press on. Our defense is probably one of the best around like I've said all season. They're a very strong unit that is able to pitch a shutout on any given night. They did a phenomenal job for us tonight."
Not going away quietly, Syracuse put together a quick scoring drive led by running back Dewayne Gordon. A run of 28 yards by Gordon set up the Shock on the Maller's 30 yard line. Two plays later quarterback Cedric Stevens connected with receiver Tyler Gage for the 22 yard score, cutting the Albany lead to 26-14 with 1:20 left in the third quarter.
During the fourth quarter the Albany defense tightened up and forced three Syracuse turnover-on-downs, two of which took place on the Shock side of the field. The Maller defense forced three Shock fumbles and blocked a punt to complete their night. Syracuse was unable to generate any offense as Cedric Stevens threw 13 incomplete passes down the final stages of the game. Albany converted a crucial third-and-ten late in the fourth to ice the game and bring home a championship to New York's state capital.
C.J. Tarver compiled over 150 yards of total offense scoring two rushing touchdowns. Coach Brown employed a balance attack with Tarver, who ran the ball 15 times and threw it the same amount.
It is the fifth Empire Football League title the Albany franchise has won. Albany also won championships in 1979, 1989 and most recently back-to-back titles in 2005 and 2006. After finishing 2010 with a 2-8 record and as a member of the North American Football League, Albany again won an EFL championship.
Albany has entered the 2011 USFA Harvest Bowl and will compete for a second national championship (2008). Syracuse may also enter their organization in the national bowl game playoffs.
NOTES: The game was streamed live for fans worldwide and is now available for replay at [http://www.steveweedproductions.com/sports.html.
SCORING
First Quarter
Syr. – Fumble recovery in end zone, #8 Charmain Smith (Grulich kick good)
Alb. – 82 yard kick-off return for touchdown, #27 Donald Murdock, Jr. (Peterson kick good)
Second Quarter
Alb. – 3 yard touchdown run, #4 Sylvester Cooperwood. (Peterson kick good)
Alb. – 6 yard touchdown run, #10 C.J. Tarver (Peterson kick blocked)
Alb. – 1 yard touchdown run, #10 C.J. Tarver (Peterson kick blocked)
Third Quarter
Syr. – 22 yard touchdown catch, #5 Tyler Gage from #7 Cedric Stevens (Grulich kick good)
Quarter First Second Third Fourth Final
Albany 7 19 0 0 26
Syracuse 7 0 7 0 14
The EFL is also proud to announce the following All Star Selections for 2011: http://empire-football-league.org/press-releases/60-2011-empire-football-league-all-stars-.html
EFL Championship Photo Slideshow: https://picasaweb.google.com/109791935201909664685/October232011?feat=email#slideshow/5666585872502444962
Please note that teams interested in joining the Empire Football League for the 2012 Season can request applications by emailing a request to empirefoot(at)aol(dot)com.
###