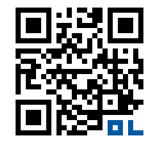 Orlando, Fla. (PRWEB) October 26, 2011
OnlineLabels.com®, one of the largest suppliers of blank labels for laser and inkjet printers in the world, announced today the launch of two label generator tools, a Barcode Generator and a QR Code Generator. Found on the Company's website, both code generators are completely free and can be accessed by anyone at any time.
"Our free QR Code and Barcode generator tools offer small businesses access to software that they might otherwise being paying a hefty premium for," says Dave Carmany, president of OnlineLabels.com. "By giving our customers the opportunity to develop either barcodes or QR codes on the fly, we're enabling them to enhance their product labels as well."
The Barcode Generator allows users to choose from nine different barcode types including a Universal Product Code or UPC, the most common barcode seen on products throughout the United States and Canada. The free barcode software can be used to print or generate an unlimited amount of barcode labels for inventory control, customer or product information and other in-house types of applications.
The QR Code Generator enables users to create a QR Code that can be scanned by a smartphone or mobile device. QR Codes store embedded information such as a website, email address, phone number or even plain text and are becoming increasing popular in the marketplace and are commonly used in advertising or product labels. Once a free QR Code is generated, users may save it as an image on their computer or immediately incorporate it into a label design.
"As important as it is for our company to continue to offer the largest selection of blank labels, we've determined it's just as important to provide our customers with the software, tools and support they need to create and print their labels," adds Carmany. "By offering completely free tools like our Barcode and QR Code generators, we're giving them the opportunity to create the most professional labels they can without the worry of expense."
Launched 1998, Online Labels, Inc. offers one of the world's largest selections of blank labels for laser and inkjet printers. The Company is a privately-held label manufacturer and Internet retailer based in Longwood, Fla. OnlineLabels.com serves customers all over the world for personal and professional labeling needs in a variety of applications. For more information, visit http://www.OnlineLabels.com or call 1-888-575-2235.
###