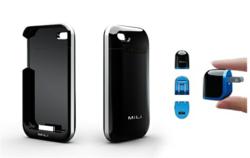 Doubling the life of the iPhone 4S
West Hurley, New York (PRWEB) October 26, 2011
At this point it is undeniable that iOS 5 is a welcomed upgrade to all previous editions of Apple's mobile operating system. iOS 5 comes with an extensive list of over 200 new features for the iPhone 4S. Its new notification system enables iPhone 4S users to allow all applications on the iPhone 4S to seamlessly send notifications for nearly every event these applications track. This empowers iPhone users to stay on top of their life's breaking news.
But much like all good things, there is a downside. By enabling all notifications and getting optimal usage out of the iPhone 4S, users are quickly finding out that the iPhone 4S battery life is meager at best. Many suggest that the iPhone 4S battery life is actually worse than that of the iPhone 4.
User forums are already rife with complaints of the iPhone 4S poor battery life. The general consensus is that apps such as Notifications & iMessanger poll the web frequently for updates and quickly drain the phone's battery when outside the comfort of a Wi-Fi hotspot.
There are several options to counter the iPhone 4S poor battery life, but most solutions inhibit the user from getting the full experience of iOS 5. MiLi Power has recently tested its MiLi Power Spring 4 on the iPhone 4S and the tests results came back positive. The Power Spring 4 will nearly double the life of the iPhone 4S.
MiLi is offering the Power Spring 4 + Pocket Pal for $79.99 with the use of promo code 'mili10' at checkout.
To order a Power Spring 4 today visit HERE
###