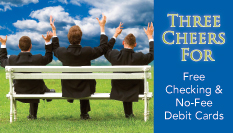 Alexandria, VA (PRWEB) October 27, 2011
CommonWealth One Federal Credit Union of Alexandria, VA has launched the "Three Cheers for Free Checking" campaign, which highlights how their members save money with the credit union's free checking accounts and no-fee debit cards.
In conjunction with this campaign, CommonWealth One members are encouraged to refer friends, family and co-workers to the credit union with a "Switch Ticket", found in branches and online at http://www.cofcu.org/switchticket. When a new member uses a "Switch Ticket" to open a checking account with a debit card, e-statements and direct deposit, they will receive $25. The referring member is automatically registered for a $250 monthly drawing.
Credit Unions are member-owned financial cooperatives. The credit union motto is "not for profit, not for charity, but for service". As a cooperative financial institution, CommonWealth One's earnings are returned to its members through lower fees for services, lower rates on loans and higher return on savings. As other financial institutions are implementing fees on their debit cards and raising fees on checking accounts, it's the perfect time to transfer to CommonWealth One to take advantage of their free checking accounts, fee-free debit cards and credit cards that do not have an annual fee.
CommonWealth One's services include free checking accounts, Visa check cards (debit cards), online banking, mobile and text banking with text alerts, e-statements, remote deposit for checks, and more. Plus, members have free access to nationwide shared branches, enabling members to perform in-branch transactions at over 4,415 locations. Members may also use the surcharge-free ATM network with over 40,000 ATMs.
New members can qualify for membership if they live, work, worship, volunteer or go to school in Washington D.C., Harrisonburg, VA, or select areas of Alexandria, VA, or if they are employed by one of their sponsor groups. Family members or current members are also eligible to join. For more information on becoming a member, please visit http://www.cofcu.org.
About CommonWealth One Federal Credit Union
Since 1944, CommonWealth One Federal Credit Union has grown to become one of Northern Virginia's top credit unions with over $295 million in assets serving more than 36,000 members. CommonWealth One is a full-service, member-owned, not-for-profit financial cooperative committed to being the lifetime financial institution of its members.
CommonWealth One Federal Credit Union offers Checking Accounts, Mortgages, Home Loans, Auto Loans, Savings Accounts, Money Market accounts, IRAs and more in Washington, DC or Virginia. We have remained true to our philosophy of "people helping people" - providing members with loans, savings plans, and special services to achieve their long-term financial goals and help them enjoy a better way of life. Our excess earnings are returned to our members in the form of higher dividend rates, lower interest rates on loans and low or no fees. For information, visit http://www.cofcu.org.
###