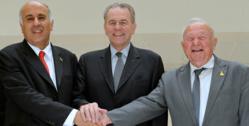 We have the moral duty to use sport as a tool for peace and development and we will continue to encourage discussions between the two NOCs in order to move things forward.
(PRWEB) October 26, 2011
The IOC is pleased to learn that the Executive Committee of the International Mediterranean Games Committee has unanimously called upon all NOC members of its General Assembly to do their utmost to ensure the participation of the NOCs of Israel and Palestine in the next edition of the Mediterranean Games in Mersin, Turkey, in 2013.
A final decision on the matter is expected to be made by an extraordinary session of the General Assembly of the Committee which will take place before June 30, 2012.
The participation of the NOCs of Israel and Palestine in the Mediterranean Games is one of the items on the agenda of the discussions that the IOC has initiated with the two NOCs. Following IOC President Jacques Rogge's visit to the Middle East in October last year, the IOC has twice brought sports representatives from the NOCs of Israel and Palestine together for constructive meetings in Lausanne (January and May 2011). These joint meetings are part of ongoing efforts to foster dialogue between the two NOCs and to address a number of outstanding sports-related issues.
The move by the International Mediterranean Games Committee was personally welcomed by President Rogge, who said: "This is a great step forward, and we can only praise the efforts made to see both NOCs of Israel and Palestine compete at the Mediterranean Games. We have the moral duty to use sport as a tool for peace and development and we will continue to encourage discussions between the two NOCs in order to move things forward."
For more information, please contact the IOC Media Relations Team:
Tel: +41 21 621 6000
###