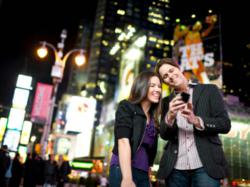 We designed these apps to deliver instant results with as little as one click.
Redwood City, CA (PRWEB) October 31, 2011
Imagine standing on a busy street corner in the nightlife district of an unfamiliar city. You want to find someplace to have a good time, but you're not sure where to go. A new series of QuickClick apps from Marketimpacts.com makes finding places to go as easy as on button tap.
The QuickClick Locale Series offers a number of apps, each focused on a specific need. Apps for a night out include:

Nightlife
Restaurants
Fast Food
Casinos
Coffee
Dessert
Gas Stations
Parking
ATMs
"There are times when you need information very quickly and easily" said Don Cowan, the lead QuickClick apps developer and Director of Software Engineering at Marketimpacts.com. "We designed these apps to deliver instant results with as little as one click. People can mix and match our apps to give themselves a custom group of easy to click icons."
"We put a lot of effort into designing the user interface" said Cowan. "If you need to enter some extra information, such as the type of cuisine for a restaurant, it can all be done on just one QuickClick screen."
"Studies, and our own experiences, have shown that the popularity of an app is directly correlated with how quickly it can be learned and used. QuickClick apps are designed around these needs."
According to statistics on the Android Developers Console, downloads of the QuickClick apps are growing at a rate of 20% month over month and they have been installed in over 50 countries.
QuickClick Apps are available for download on the Android Market and more information can be found on the QuickClick Apps web page. To find the apps from a smartphone or tablet, search the Android Market for "QuickClick Apps".
The Marketimpacts.com team develops software for smartphones, tablets and PCs.
Marketimpacts, QuickClick and Locale are trademarks of Arelinda Technology Group, Inc.
For more information, visit http://www.marketimpacts.com.
# # #