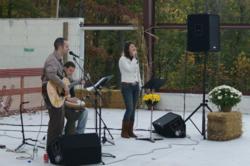 Delray Beach, FL (PRWEB) October 27, 2011
MBMI Metal Buildings, specialized supplier of metal buildings, delivered a custom designed pre-engineered gymnasium to Shiloh Bible Camp in Hewitt, New Jersey last spring. The construction of this prefab is moving along as planned. In fact, the 25th anniversary reception for the Shiloh Ministry was held in the partially constructed gymnasium during the open house. The concrete foundation and framework acted as an open-air venue.
Old and young, guests met in the gymnasium where tables and a stage were set up for dessert and entertainment. The red-iron structural steel frame enclosed those gathered on the concrete foundation on a beautiful fall afternoon to relax after touring the camp. MBMI delivered the metal components of the building pre-punched, pre-welded, and pre-painted to simplify the construction process. In this case, the clean and simplified construction site of this building doubled as a safe venue. Shiloh Bible Camp guests congregated and celebrated the past 25 years and the future gym. The cake at the celebration quoted scripture saying, "Let us rise up and build."
The gymnasium project has been a long time in the works. With permitting finally resolved Camp Shiloh purchased its pre-engineered gymnasium building from MBMI Metal Buildings and broke ground on the construction of the foundation for the gymnasium in late 2010.
Camp Director, Jon Frank, is very happy with the progress of the gym and says that the next phase will be installing the metal sheeting. While the immense work done on the gymnasium up to this point was put on display for guests at the open house, further progress of the construction continues to be documented in photos and videos on the Shiloh Bible Camp Facebook page.
For a free quote on a customized steel building visit http://mbmisteelbuildings.com/metal-building-quote or call toll free 1-800-293-2097.
About MBMI Metal Buildings
MBMI, offering a wide range of great customer service, is among the leaders of metal buildings companies in the USA. MBMI specializes in steel buildings, custom designs, manufacturing, and fast delivery. Using state of the art technology and first class engineers MBMI builds economical custom buildings with ease. MBMI uses only the finest materials available to the metal buildings industry. Our staff is comprised of engineers, draftsmen, detailers and building designers with over 70 years of experience and know-how to put together the highest quality metal building in the industry.
###