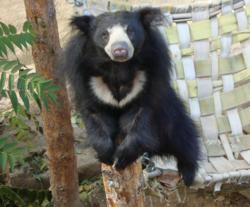 Silver Spring, MD (PRWEB) October 27, 2011
Zoo Boise recently announced a project to help sloth bears both in captivity and in their natural habitat in India. The Association of Zoos and Aquariums explores this story on its Explore blog.
The Zoo's general policy is to contribute a percentage of every capital project budget to the conservation of that species in the wild. "Zoo Boise feels that by contributing 10% of the project budget to field conservation it demonstrates our commitment to conservation to donors and enables zoo visitors to not only see the animal, but also help protect it in the wild," explains Director of Zoo Boise, Steve Burns.
Sloth bears are a part of the Association of Zoo's and Aquariums (AZA) Species Survival Plan®, which aims to manage and conserve select and typically threatened or endangered ex-situ species populations. Projects like that of Zoo Boise are a perfect example of accredited zoos and aquariums making significant contributions to conservation which provide animals with much, much more than the "bear necessities".
The Explore blog brings you exciting, informative, and inspiring wildlife conservation features, zoo and aquarium stories, and profiles. Be sure to visit the blog to get your wild animal fix!
Founded in 1924, the Association of Zoos and Aquariums is a nonprofit organization dedicated to the advancement of zoos and aquariums in the areas of conservation, education, science, and recreation. Look for the AZA logo whenever you visit a zoo or aquarium as your assurance that you are supporting a facility dedicated to providing excellent care for animals, a great experience for you, and a better future for all living things. The AZA is a leader in global wildlife conservation, and your link to helping animals in their native habitats. To learn more visit http://www.aza.org.
# # #