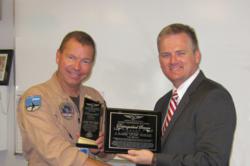 Mesa, AZ (PRWEB) October 28, 2011
Aviation Performance Solutions LLC (APS), announced J. Clarke McNeace today as the recipient of the APS Distinguished Service Award of Aviation Excellence. As the VP of Flight Operations and Standards, Clarke has excelled in the technical growth and development of APS's industry-leading upset prevention and recovery training solutions.
"Clarke's daily enthusiasm, focus of unparalleled expertise and his one-on-one approach to pilots of all experience and skill levels place him at the top of the international aviation industry's instructor pilot cadre of experts," Says Paul BJ Ransbury, president of Aviation Performance Solutions LLC. Ransbury, "His years and thousands of hours of effort committed to the development, implementation and refinement of upset recovery, stall/spin and all-attitude recovery will shape future pilot training to vastly improve the safety of private and global commercial air travel." Clarke McNeace leads APS in day-to-day flight operations and is responsible for course development, pilot standardization and industry compliance.
Professional Background – Clarke 'Otter' McNeace: After 8-years of full-time duty in the US Navy as an F/A-18 Hornet fighter pilot, with 36 combat missions in Desert Storm, he spent 10-years and over 9,000 hours flying the 737, more than 5-years as a 737 captain. In the fall of 2004, Clarke left the airline industry to join APS as a line pilot and flight instructor where he rapidly grew into the company's top pilot leadership position a VP of Flight Operations and Standards. In early 2007, Mr. McNeace became an APS corporate owner and operating partner. In October 2007, 'Otter' (going by his Navy-assigned callsign) became the nation's first officially designated aerobatic certified flight instructor (CFI-Aerobatic) and is currently a two-time Master CFI-Aerobatic. Clarke was instrumental in the dramatic growth, development and redesign of the spectrum of business services offered by APS to support clients from around the world. Clarke has earned this prestigious recognition for selfless dedicated personal and professional service in the development of industry-leading loss of control in-flight mitigation strategies to save lives in commercial aviation worldwide.
ABOUT APS EMERGENCY MANEUVER TRAINING: APS Emergency Maneuver Training, based at the Phoenix-Mesa Gateway Airport in Mesa, Arizona USA, has successfully trained over 4,500 professional pilots in fully comprehensive upset recovery skill development. For more than a decade, APS has been committed to giving professional pilots of all skill levels the highest quality upset recovery training available. APS offers comprehensive LOC-I solutions via industry-leading computer-based, on-aircraft, and full-flight simulator upset recovery and prevention training programs. In addition to all flight training being in full compliance with the internationally-recognized Airplane Upset Recovery Training Aid, APS is the only Part 141 Flight School currently certified in the delivery of all of upset recovery, stall / spin and instrument recovery training courses worldwide. For corporate information, please visit: http://www.apstraining.com
###