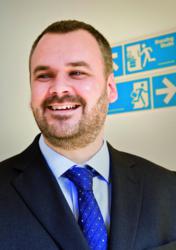 (PRWEB) October 27, 2011
Branding, creative and digital agency, RT Media, has announced the promotion of Jamie Homer from Studio Manager to Design Director as part of the company's overall growth plan.
The move comes hot on the heels of the recent merger and integration of social media training and consultancy business, SocialTech, and creative agency, Ozone Creative Solutions, which saw RT Media expand its services and core resources.
Ross Thornley, RT Media founder and Creative Director, said: "The appointment of a Design Director is a fundamental step in the growth plan of our business. Following our on-going strategic development of the company, we decided to expand our offering to clients through mergers with two companies that had the core skills we desired. Naturally, the additional staff and skill sets need a new level of management and Jamie was the obvious choice."
Jamie has eleven years of experience in the industry, having spent almost eight of them with RT Media. He joined the company as a Creative Artworker, progressing to Senior Designer and then Studio Manager.
Jamie has worked on a number of high-level branding campaigns whilst managing the team, and has a philosophical approach when it comes to delivering the best option for the client. He said: "I am delighted to have been appointed as Design Director and see the position as having the responsibility of nurturing the best talent and ideas within the team in order to deliver the best results for the client.
"These are very exciting times for RT Media and for our clients. I intend to use the unique position of having already worked within the business as a manager as well as creatively alongside our existing clients to inspire and motivate the team to develop world class, conceptual design that meets the strategic aims of any creative campaign. It is not just about being good at design," he said. "It is about being good at design for the good of a business and that, along with our branding, social media and digital offerings, is where we excel for our clients."
RT Media was the only agency in Dorset, Hampshire and Wiltshire to be listed in a first-of-its-kind national table of design agencies by Recommended Agency Register (RAR), which showed that great design is no longer the preserve of specialist design agencies.
###