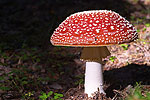 Boston, MA (PRWEB) October 29, 2011
The Doctors Health Press, a publisher of various natural health newsletters books and reports, including the popular online Doctors Health Press e-Bulletin, supports a recent clinical study that found a compound from a wild, poisonous mushroom could help kill cancer.
As reported in the Doctors Health Press e-Bulletin on Wednesday, October 26, 2011, the compound is called "verticillin A." What it does is sensitize cancer cells to "TRAIL," which is a drug that causes cancer cells to self-destruct. In this way, the natural medicine world teams with the pharmaceutical world for a potent combination.
The new study was performed in mice. It found that verticillin A alone was adequate to kill cancer cells, but the required dose made the mice sick, a common problem with many cancer therapies. But when a lower dose was paired with TRAIL, it became a powerful, more tolerable recipe that killed previously resistant cells.
The mushroom compound also improved the efficacy of the commonly used cancer drugs etoposide and cisplatin, which also work by promoting cancer cell death. Thus, the researchers think verticillin A could be great for a wide variety of cancer drugs.
The study was first published on September 12, 2011 by Kebin Liu, Department of Biochemistry and Molecular Biology, Georgia Health Sciences University and Feiyan Liu, College of Life Sciences, Zhejiang University, Hanzou, China.
The Doctors Health Press e-Bulletin is a daily e-letter providing natural health news with a focus on natural healing through foods, herbs and other breakthrough health alternative treatments. For more information on the Doctors Health Press, visit http://www.doctorshealthpress.com
###