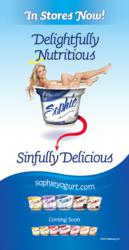 "I was inspired to create Sophie Yogurt because I wanted to fuel my clients with a nourishing food that would sustain and satisfy them"
New York, NY (PRWEB) October 28, 2011
Greek yogurt has never looked or tasted this good. Introducing Sophie Yogurt, a luxuriously rich and creamy, all-natural, no-sugar-added, zero fat, Greek-style yogurt, now in grocery and specialty stores throughout the NYC area. Available in five flavors: Chocolate, Banana Cream Pie, Vanilla Bean, Plain and Plain with Fiber, Sophie Yogurt offers unique and irresistible flavors and provides a healthy alternative for those looking for a delicious snack.
Offering exceptional nutritional value, Sophie Yogurt was created by Sophie Pachella, the nutrition and fitness expert behind the health and wellness foundation: EatStrong. "I was inspired to create Sophie Yogurt because I wanted to fuel my clients with a nourishing food that would sustain and satisfy them" said Pachella. "I crafted the recipe at home and experimented until friends and clients agreed I'd hit upon a decadent treat that helped them stick to their healthy eating and fitness goals. Chocolate was the first flavor, and we grew from there".
Spurred by what she describes as "an insatiable sweet tooth", Sophie went beyond traditional Greek yogurt flavors from the outset and new flavors will be introduced in 2012, so she isn't stopping there.
All flavors contain live cultures which help optimize metabolic function and aid in digestion while satisfying the senses. Free from preservatives and crafted only with the highest quality ingredients including GMO-free skim milk, Sophie Yogurt is the first Greek-style yogurt to contain absolutely No Added Sugar and No Artificial Sweeteners. Each cup of Sophie Yogurt contains at least 14 grams of muscle-building protein, and just 90-140 calories a cup.
The philosophy behind EatStrong and Sophie Yogurt is that healthy eating should be full of flavor, flexible and fun. This is the yogurt which has been missing from supermarket shelves until now – one that is surprisingly, delightfully healthy and shows that food desires can be answered with a delicious and nourishing choice.
For more about Sophie Yogurt, please visit http://www.sophieyogurt.com
Or, visit us on Facebook: http://www.facebook.com/pages/Sophie-Yogurt/106174586126337
###