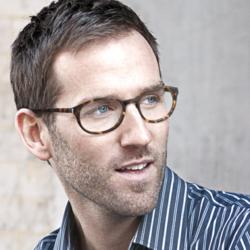 Carrollton, Texas (PRWEB) October 27, 2011
Since 1851, the Arrow brand has remained fresh and has made its mark in men's fashion with the principles of quality, comfort, and optimism. Part of this success can be attributed to the breadth of its appeal. Traditional masculine styles, and retro sensibilities make the Arrow brand ideal for a broad range of customers, from the 40-something business professional, to the 20-something graphic designer. Distributed by Nouveau Eyewear, the Arrow ophthalmic collection brings the same versatility and quality that's made Arrow world-renowned for well over a century.
At the core of this collection is the top-selling A100 model. With its round, retro shape and keyhole bridge this model is the definition of "classic". But classic needn't mean boring. On the contrary, the A100 gives a new look to a style that never gets old, making it ideal for traditionalists and trend-setters alike. Made of comfortable, lightweight plastic and complete with spring hinges, the A100 is available in the ever-popular black, and tortoise. This smart, versatile frame looks great on a variety of skin tones and face shapes; and, in a diverse array of settings, whether in the office, or at the coffee shop, this frame distinguishes. It's no mystery as to why it's number one.
Despite it's immense popularity, the A100 will be up against some stiff new competition this month. Released this September, the A118 is the newest model to enter the Arrow collection, and it certainly stands out. This sharp new frame is made of lightweight stainless steel, making it both durable and extremely comfortable. Plus, its unique unisex styling serves to greatly widen its appeal. The softly rounded, classic eyeshape, flat metal design, and keyhole bridge come together to create a brilliant blending of contemporary and vintage. The A118's matte finish provides a subdued, mature look that is appropriate for any occasion. Available in classic matte black and brown.
The Arrow brand provides a youthful, yet sophisticated aesthetic that suits a variety of tastes and faces. A name that is well-known and well-respected, Arrow embodies quality, affordability, and style. Comfort and value needn't come at the expense of being fashionable, and the Arrow collection by Nouveau Eyewear proves it. To learn more about the Arrow collection by Nouveau Eyewear, please visit http://www.NouveauEyewear.com.
###