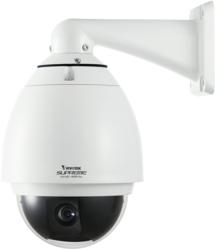 San Jose, California (PRWEB) October 29, 2011
VIVOTEK, Inc., an industry leader in megapixel and HD IP camera technology, today announced the availability of the SD8311E, SD8312E, SD8313E, and SD8362E speed dome cameras, bringing to the market a full line of outdoor PTZ solutions. These cameras replace VIVOTEK's previous offerings, the SD7151 and SD7313.
Aimed at providing a full suite of features and options for challenging outdoor applications, all of the outdoor PTZs feature 360° continuous pan and 90° tilt which are controllable via joystick and can have up to 128 preset positions for automatic patrol. The cameras adopt H.264 compression as well as the option for MPEG4 and MJPEG encoding; by providing a variety of choices in the compression scheme, users can tailor the camera streams to their individual needs for maximum flexibility. The addition of Wide Dynamic Range (WDR) Pro on the cameras means that video detail can be fully captured under challenging lighting conditions. As the cameras also feature up to 60 fps frame rate, the WDR Pro can utilize this feature to combine dual images exposed at different settings for video that is lighted properly and still runs at a smooth 30 fps on the final output.
Another key feature available on these outdoor models is IP66 weatherproofing and an extended temperature range, allowing the cameras to be used in environments from -40° to 55°C (-40° to 131°F), which may include snow or desert environments. With Power-over-Ethernet (POE) being the preferred method for powering most IP surveillance installations, 802.3at POE Plus support allows the cameras to be powered with a single network cable without the need for additional power. Additionally, the cameras have a removable IR-cut filter for true day/night functionality, while data can be stored locally on the SD/SDHC card slot.
The models are differentiated chiefly by their resolution and optical zoom capabilities: the SD8311E/8312E/8313E provide 18x/28x/36x optical zoom respectively at 720x480 D1 resolution, while the SD8362E provides for 20x zoom at 1080p full HD resolution. With the increased image clarity and detail of the SD8362E, lettering on buildings, containers, or vehicles can be viewed from as far as over 1 mile (1.6 km) away. The SD8311E/8312E/8313E also includes Electronic Image Stabilization (EIS) to minimize vibration from the camera being mounted in high locations, while the SD8362E also includes an audio alert feature to detect changes in volume in the surrounding environment.
"VIVOTEK's new series of outdoor PTZ cameras represents a complete line of outdoor surveillance solutions," said Harry Hu, Director of Sales at VIVOTEK USA. "From the SD8311E for smaller applications to the SD8362E for demanding surveillance, customers will find this line of outdoor PTZs easy to use, highly reliable, and endlessly flexible."
The SD8311E/8312E/8313E and SD8362E join the PZ7131, PZ7132, PZ8111, PZ8111W, and SD8111 indoor family of PTZ offerings. The cameras are supported on VIVOTEK's software recording solutions ST7501 and VAST and are also compatible with a host of third-party VMS platforms. For more details on the new outdoor PTZ cameras, please visit the specific product pages at:
http://www.vivotek.com/products/model.php?network_camera=sd83x1e
http://www.vivotek.com/products/model.php?network_camera=sd83x2e
http://www.vivotek.com/products/model.php?network_camera=sd83x3e
http://www.vivotek.com/products/model.php?network_camera=sd8362e
About VIVOTEK
VIVOTEK Inc., established in 2000 and publicly listed on the Taiwan Stock Exchange, has quickly taken its place as a technology leader and total solution providers in the IP video surveillance industry. VIVOTEK is known for excellence, delivering total IP video surveillance solutions that embody the complete integration of video codecs, optoelectronics and networking technologies. VIVOTEK's innovative R&D teams are dedicated to developing highly reliable IP surveillance products, including network cameras, video servers, video receivers, NVR, and central management software to deliver practical, state-of-the-art solutions to the security market. VIVOTEK Inc. offers a broad line IP video surveillance solutions to over 80 countries worldwide. VIVOTEK USA adds to the company's global reach as a subsidiary of VIVOTEK Inc. For more information, please visit http://www.vivotek.com.
# # #