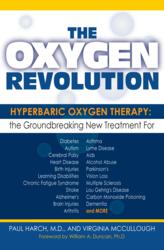 New Orleans, LA (PRWEB) October 28, 2011
Paul Harch, MD of Harch Hyperbarics Inc. has donated 40 hyperbaric oxygen therapy (HBOT) treatments to The New Orleans Healing Center Fund Raiser to be auctioned off on eBay. This short auction will end Friday October 28th at 11pm
Hyperbaric Oxygen is being realized to offer healing, or medical benefit, to more than the thirteen indications that are covered by insurance. Conditions such as Autism, Cerebral Palsy, Traumatic Brain Injury, Stroke, PTSD, and many others have responded positively to HBOT treatments but are considered "off-label" indications because they are not covered by most insurance plans.
Dr. Harch has been treating patients with HBOT for over twenty years and has written a book called "The Oxygen Revolution" explaining just how this noninvasive and painless treatment can help the tens of millions in this country who suffer diseases considered "hopeless" from their doctors – diseases from a chronic wound to a traumatic head injury.
Hyperbaric oxygen therapy for these off-label conditions cost on average $200 per one-hour session (called a dive.) A patient will spend $8,000 for 40 dives.
The New Orleans Healing Center celebrated its grand opening this year in downtown New Orleans. The mission for this community center is all about healing and has based its core purpose and operating principles on the United Nations guidelines for healing/sustainability. This year the community center will host the fourth annual Anba Dlo – RISING TIDES Halloween Party where the auction will take bids via a Kiosk.
###