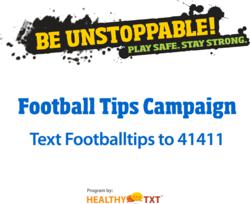 Texting this information is a great idea and lets parents, coaches and kids become aware of what a concussion is
Chicago, IL (PRWEB) October 28, 2011
A new Centers for Disease Control and Prevention (CDC) survey recently found that reports of concussions are up 60 percent over the past decade in hospital emergency rooms. And the increase isn't a result of more injuries; it's because people now understand the seriousness of sports injuries, and are taking preventive measure, such as participating in concussion education via text messaging.
Now is the time for the BeUnstoppable Football Tips Campaign. Designed to educate and raise awareness about concussions and other sports injuries, BeUnstoppable aims to help kids play safe and stay strong both on and off the field.
Championed by Dr. Vishal Mehta – a Chicago area orthopaedic sports medicine surgeon – in collaboration with the national STOP Sports Injuries campaign, the program is growing exponentially. More than 90 sports medicine physicians, athletic trainers, high schools and youth football teams across Illinois and the Midwest have gotten involved and are encouraging parents, athletes, and coaches to sign up for the free service.
The campaign also caught the attention of current Jacksonville Jaguar player and college All-American, Matthew Roth, who recently signed on to support the program. Roth played football at Willowbrook High School in Villa Park, Illinois, as well as for the Miami Dolphins and Cleveland Browns.
"Texting this information is a great idea and lets parents, coaches and kids become aware of what a concussion is," says Roth.
Matt Williams, a quarterback at Geneva High School in Geneva, Illinois, says the free messages are short and engaging, and he always makes sure to pass them along to his teammates. "It's an easy way to check to see that everyone is good to go before heading onto the field."
"Pieces of paper from a doctor have little appeal to a 17- or 18-year-old kid," says Dr. Mehta, who created the public service campaign through his organization Healthy-TXT. "Studies show that texting is the very best way to reach teenagers, as well as parents."
Subscribers receive simple text messages about concussions, sports performance, injury prevention, and motivational tips from leading sports medicine experts and professional athletes.
"I love the combination of injury prevention messaging and motivational texts," says Amy Raftis, a Springfield, Illinois mother of three football players. "I think it will make a big difference reaching kids and parents."
To sign up, text the phrase "footballtips" to 41411 or go to http://www.healthy-TXT.com to register. All subscribers go through a mini concussion-training course. Upon completion, participants can take a concussion quiz, and be entered for a chance to win an iPad2. Winners will be announced on Super Bowl Sunday.
Participants will be randomly selected to win a customized X2 helmet from Xenith Adaptive Head Protection®, a BeUnstoppable Football Tips Campaign sponsor. ATI Physical Therapy of Bolingbrook, Illinois is also providing a $1,000 college scholarship to one lucky participant. Also supporting the program is Athletics2000, a division of 8 to18 Media, the largest operator of school extra-curricular websites in Illinois.
Healthy-TXT and STOP Sports Injuries are currently working on similar campaigns for other sports.
For more information, go to http://www.healthy-txt.com or for additional information on the STOP Sports Injuries campaign visit http://www.stopsportsinjuries.org.
About Healthy-TXT
Founded in Chicago in 2011, Healthy-TXT™ is a physician-designed service that delivers healthy text messages to inspire, engage, and empower people to take action for health. Numerous studies have shown that healthy behaviors are encouraged and sustained using mobile platforms where people live, work, and play. Healthy-TXT™ develops public service campaigns, and works with organizations and physician practices to develop customized text packages to reflect specific goals and the Healthy-TXT™ mission. For more information, go to http://www.healthy-txt.com.
About the STOP Sports Injuries Campaign
The STOP Sports Injuries campaign was initiated by the American Orthopaedic Society for Sports Medicine (AOSSM). A comprehensive public outreach initiative, the program focuses on how playing safe and smart can enhance and extend a child's athletic career, improve teamwork, reduce obesity rates, and create a lifelong love of exercise and healthy activity. For more details, visit http://www.STOPSportsInjuries.org
###