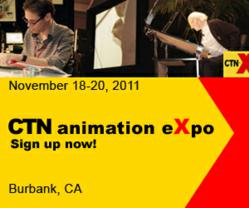 "The sheer volume of talent and information was mind-blowing! -- like a candy store for animators." Katie Koskenmaki - Artistic Development Coordinator DreamWorks Animation
Burbank, CA (PRWEB) October 31, 2011
Now in its third and best year yet, at the Burbank Convention Center, the amazing Creative Talent Network Animation eXpo® 2011 once again puts "The Talent Center Stage". This event is the official hub for the citywide proclamation of Animation Week where the CTN eXpo 2011 (November 18-20, 2011) celebrates and honors both the individuals and studios whose spectacular contributions can be seen in some of the highest grossing and most admired films in the history of animation. Using "The Chain of Inspiration" as it's theme this year CTN has talent crossing over age, genre, studio and geographic boundaries to share in this incredible event.​
"We are proud to welcome the Creative Talent Network® back to Burbank," says former Burbank Mayor Anja Reinke, "The animation community is quickly becoming a worldwide job growth creator and it's no secret that Burbank is home to some of the largest and most successful animation and film studios. We look forward to once again hosting this international community of talent for the third annual Animation Week and CTN Animation Expo."
Created by artists and for artists. CTN's founder, Tina Price, is an award-winning animator, industry pioneer and a 25-year animation veteran, formerly with the Walt Disney Animation Studios.
Imagine hundreds of world-class creators and award-winning animators connecting under one roof in the animation capital of the world, Burbank, CA. The CTN eXpo 2011 is where you will find them, LIVE, at the annual event of the virtual community of top talent artists from the Creative Talent Network. Attendees enjoy the experience to view professionally curated exhibits and special sneak peak screenings. But most unique to this event is the quality of the talent in an intimate environment that includes live demonstrations, networking receptions, workshops, panel discussions, business symposiums and recruiting.
Attendees, by the thousands, flock here eager to see cutting-edge technologies, meet their mentors, lock into new careers and connect with other talent. With over 6,300 international​ members of CTN, more than 4,000 are expected to attend everyone leaves this event with more than they walked in with. ​
This year CTN is proud to announce in an Exclusive US Appearance the animatior, director and illustration artist, Oscar Grillo, in his first US appearance in over 15 years. Additional event presenters include Carlos Grangel an award winning character designer from Dreamworks Animation, French Graphic Novel Illustrator Règis Loisel, Master Character Designer and Illustrator Florian Satzinger from Austria, Richard Sherman composer of some of the most memorable songs from Disney animation history, the most sought after creature designer today Terryl Whitlatch formerly with ILM and over 60 additional artists, industry leaders and award winning creators.
Expo partners include Ai Hollywood, Animation Mentor, Animation Magazine, Animation World Network, BlueCanvas, Blue Sky Animation, CRE Computer Rental Equipment, Disney Television Animation, Disney Toons, Dreamworks Animation, Nucleus Bookstore and Gallery, Sony Pictures Animation, The Art Institute Hollywood, The City of Burbank, Toon Boom Animation, WACOM, Walt Disney Animation and Woodbury University.
In these extremely challenging economic times, jobholders and job seekers have to continue to remain competitive and network with potential contacts and opportunities from around the world. CTN eXpo will host highly regarded One-On-One Personal Consultations with both Creative and Recruiting Professionals from top studios and educational institutions along with special events such as Breakfast with the Pros, CTNX @ Night Networking Evenings, Portfolio Critique Sessions, Conversations with Creators and Raising the Bar Recruiting with recruiters from BlueSky Animation Studios Cartoon Network, Disney Television, Disney Toons Studios, Dreamworks Animation, Disney Toons Studios, Disney Television Animation, Dragonherder Entertainment, Duncan Studio, Exodus Filmgroup, Renegade Animation, Rhythm and Hues Studios, Gentle Giant Studios, Hasbro, Jim Henson Studios, Laika Animation Studios, Nickelodeon, Pepper Films, Pixar Animation Studios, Sony Pictures Animation, Stone Circle Pictures, Threshold Entertainment and the Walt Disney Animation Studios.​​
The International CTN animation eXpo® will take place at the Burbank Marriott Convention Center, 2500 N Hollywood Way, Burbank, CA 91505 across the street from the Burbank Airport and Amtrak Station. There is ample discounted parking conveniently located. Tickets are available for $70 for a day pass and $140 for a 3-day pass. Discounted rates are available to students, active military and professional industry organizations. Learn from the best at this very different and career changing event. For more information and to register, please visit: ​http://www.ctnanimationexpo.com or call, (800) 604-2238 ext 0.
###