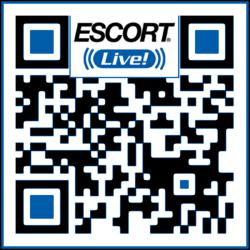 "It's not only reliably accurate in a way no other crowd-sourcing app is, but it's also fun. It brings a lot of the cat-mouse element that makes radar detectors so gratifying to use," said Eddie Alterman, Editor-in-chief of Car and Driver magazine.
Las Vegas, NV (PRWEB) October 31, 2011
ESCORT Live™, ESCORT's ultimate ticket protection network, will debut this week at the 2011 SEMA (Specialty Equipment Manufacturers Association) show. The revolutionary ESCORT Live™ technology will be on display along with ESCORT's award-winning, premium automotive accessories Nov. 1-4 in the North Hall, booth #11349. ESCORT Live™ is the social network for the road where drivers share live alerts with other drivers so everyone in the network can drive smarter.
ESCORT Live, now on sale through ESCORT (http://www.escortinc.com/escort-live), uses Bluetooth technology embedded in SmartCord Live™ cords and a unique app for the driver's smart phone. When alerts are detected, they are transmitted to the ESCORT Live "cloud" and then broadcast across the ESCORT Live network, notifying drivers of potential ticket threats. In addition to these live alerts, the system provides ESCORT's industry-leading Defender® database of fixed position cameras and speed traps.
"It's not only reliably accurate in a way no other crowd-sourcing app is, but it's also fun. It brings a lot of the cat-mouse element that makes radar detectors so gratifying to use," said Eddie Alterman, Editor-in-chief of Car and Driver magazine.
The key to the ESCORT Live community is real-time national reach and scale. Currently there are more than a million compatible ESCORT or BELTRONICS radar detectors on the road in the United States. Multiply this data gathering and sharing process by millions of miles and driving hours and the result is a nation of protected ESCORT Live drivers.
"Following an ESCORT Live driver yields excellent information about what lies ahead because the first vehicle's alerts are seamlessly transmitted to other cars equipped with the ESCORT Live app," says ESCORT CEO and President John Larson. "ESCORT Live is a nation of protected drivers helping other drivers in the ultimate live alert network."
"ESCORT Live makes drivers the safest and smartest in history – you're gaining real-time protection and real-time alerts," says "Radar" Roy Reyer, an independent industry expert on radar detectors. "You're becoming part of a community with ESCORT Live."
Earlier this fall, a small group of ESCORT customers were given the chance to test-drive the Live system, which they hailed as a home run.
"The radar detector is really awesome, but the alerts on the map and the warnings that come back to you just take it to a whole new level," said one participant.
"A huge feature of ESCORT Live is that it not only tells you the speed you're going and the speed limit of where you're at, but it also notifies you of the alerts around you – which you wouldn't know unless you were part of the Live network," said another participant, who also test-drove the system.
Here's how it works: Imagine departing for the morning commute. Your neighbor's ESCORT radar detector encounters a laser gun; that alert information is relayed immediately to the ESCORT Live™ network as a confirmed "laser-detected" threat. Later, as you head in the same direction, even when you are miles away from the waiting laser gun, your smartphone equipped with the ESCORT Live™ app displays a red "laser-spotted" alert before you are in range.
ESCORT Live alerts are displayed with band, signal strength and frequency. Events spotted previously in the network are indicated by an "approaching live alert" message with directional location arrow and distance-to-arrive at the alert source.
Alerts appear at their coordinate location and are marked with an intuitive "heat map" icon that changes color and transparency based on alert relevance.
The ESCORT Live app provides the latest available information on speed cameras, speed traps and speed limit data. Important driving data is displayed for compass heading, vehicle speed and over-speed alerts. Users are automatically updated with the latest detector software to optimize performance and eliminate false alerts. The app features map and dashboard views with multiple alert settings based on user preference.
"It's well known by analysts and industry experts that our radar detector products have always provided drivers with the highest level of ticket protection in the marketplace," says ESCORT's Vice President of Product Development Tim Coomer. "Now, with ESCORT Live, ESCORT drivers don't need to be in the range of the threat, they just need to be in the network."
ESCORT Live will be shown for the first time this week at the Specialty Equipment and Manufacturer's Association (SEMA) show at the Las Vegas Convention Center. For more information, attendees can stop by Booth #11349 (North Hall). ESCORT will also host a press conference at 10:30 a.m. Nov. 3, in the SEMA Show Media Center.
ESCORT also will display two additional new products at the SEMA show.
ESCORT's QuickStart is a remote start and security system that gives drivers one-touch control over the several features to start, track, and secure their vehicle via their smartphone. Drivers can control multiple vehicles with one app and assign more than one user to control a vehicle.
ESCORT Mobile TV is a connected Mobile Digital TV (MDTV) receiver with antenna, capable of delivering digital TV to automotive consumers. In addition to Wi-Fi and 3G/4G capability, this accessory directly manages Apple security IC (iAP0) and USB interface.
About ESCORT, Inc.
ESCORT Inc. is the leading manufacturer of high-performance radar/laser detectors and premium automotive accessories. ESCORT manufactures products under the ESCORT, PASSPORT, REDLiNE, SOLO, Vector and BELTRONICS brands. The company is headquartered in West Chester, Ohio, with its principal manufacturing facility located in Mississauga, Ontario, Canada. Visit ESCORTinc.com or call 1.888.265.9391.
Editorial Contact:
Ron Gividen
513-870-8500
###