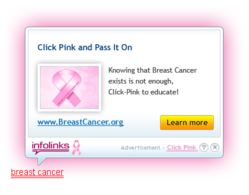 The versatility of our In-Text technology is apparent in campaigns such as this, where we can use our real-time ads to promote causes such as Breast Cancer Awareness Month
Palo Alto, CA (PRWEB) October 31, 2011
Infolinks, the In-Text advertising network, today announced the launch of their Click-Pink campaign in honor of October's Breast Cancer Awareness Month. Infolinks is donating their technology and broad network of over 60,000 sites to offer support for breast cancer foundations.
Each year over 250,000 new cases of breast cancer are diagnosed in the United States alone. To show support for the global fight against the deadly disease, Infolinks is giving their famous ad-bubble a Click-Pink make-over. Now every Infolinks bubble will have a pink ribbon linked to top breast cancer foundations. Infolinks is also launching an ad campaign across their new self-serve Marketplace spreading Breast Cancer education and encouraging donations to support screening, early detection and research for a cure.
"The versatility of our In-Text technology is apparent in campaigns such as this, where we can use our real-time ads to promote causes such as Breast Cancer Awareness Month" shared Infolinks CMO, Tomer Treves, "By matching related keywords to our Click-Pink campaign we will expose these important charities to the relevant audience and revolutionize how our algorithm can be used for not only monetization purposes – but also charitable giving and raised awareness."
Infolinks is sending targeted traffic to such worthy organizations as: BreastCancer.org, National Breast Cancer Foundation, Susan G. Komen for the Cure and The Breast Cancer Research Foundation.
About Infolinks
Infolinks is the fastest growing In-Text advertising network. Since 2007, the company has connected tens of thousands of websites and advertisers worldwide. Infolinks utilizes innovative technology to guarantee its advertisers yield optimal results and its publishers receive the highest revenue share. The Infolinks Pay Per Click Advertising platform enables advertisers and website owners to benefit from contextual In-Text advertising directly. For more information visit http://www.infolinks.com or http://www.facebook.com/infolinks.
###