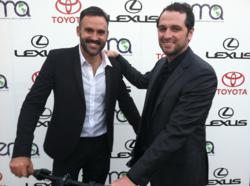 Joining forces with the EMA and celebrities such as Matthew Rhys are helping raise awareness of our eco-friendly bike as a green, fun alternative to daily auto commuting
West Hollywood, CA (PRWEB) October 31, 2011
Conscious Commuter Corporation (Conscious Commuter™), a startup helping shape the future of sustainable commuting, was honored by having its folding electric bike for commuters spotlighted on the Environmental Media Association's "green" carpet at the 21st Annual EMA Awards.
The Environmental Media Association chose Matthew Rhys as the celebrity to ride Conscious Commuter's folding electric bike at the awards. Rhys, who plays Kevin Walker in the ABC television show "Brothers & Sisters," took a spin on the carpet, hamming it up with the cast of the popular ABC show "Revenge" as they were lined up for the cameras.
"Matthew Rhys was the perfect celebrity to ride our folding e-bike on the 'green' carpet, as we're trying to put fun back into commuting, and Matthew certainly espouses fun with his personality and attitude," said Bob Vander Woude, President and CEO of Conscious Commuter Corporation. "We are trying to reacquaint commuters with the joy of everyday travel – that it can actually be fun. Joining forces with the EMA and celebrities such as Matthew are helping raise awareness of our eco-friendly bike as a green, fun alternative to daily auto commuting."
EMA has been at the forefront in working closely with the corporate world to move the environmental agenda forward. By supporting companies such as Conscious Commuter that offer sustainable products, they link the power of celebrity to environmental awareness. It was the EMA who invented the 'green carpet,' launching the concept of taking a hybrid or alternative fuel vehicle – not a limo - to high profile awards events and bringing the concept of alternative automotive technology to millions of previously unaware households.
"As the designer of the product I was surprised and honored when I was asked to do an encore ride on our folding e-bike," said Gabriel Wartofsky, Vice President and CTO. "How many product designers ever get to see their creation on a celebrity carpet event, yet alone be able to ride it on the carpet themselves? It was a once in a lifetime opportunity and experience."
In addition to having it's folding e-bike showcased on the "green" carpet, Conscious Commuter donated one of their prototypes to the EMA for auction to help support the EMA in raising awareness of environmental issues.
About Conscious Commuter Corporation
Conscious Commuter Corporation is helping shape the future of urban mobility by solving the first and last mile commute problem. Conscious Commuter's lightweight, intuitively folding electric bike empowers users to get to the nearest bus stop or rail station, and, after commuting, to get to their office – grease free and without a sweat.
Conscious Commuter's patent-pending multi-modal public transportation system will integrate folding electric bike share, a smart bus hub network and multi-tasking buses to increase both efficiency and desirability of public transportation.
Conscious Commuter is a trademark of Conscious Commuter Corporation. All other names mentioned herein may be trademarks of their respective owners.
###