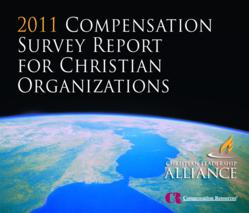 Upper Saddle River, NJ (PRWEB) November 03, 2011
Compensation Resources, Inc. (CRI) and Christian Leadership Alliance (CLA) have released their 2011 Compensation Survey Report for Christian Organizations. This is an annual study specifically designed to provide important compensation data for use by Christian-based organizations, specific to Not-For-Profits, Ministries and Churches. Along with salary and bonus data on 119 jobs, the survey also captured benefit information including insurance coverage, paid time off, retirement plans, turnover, work – life, etc.
The data is separated into the following 8 industrial classifications covering Christian-based organizations:

Broadcast / Media
Church
Mission Agency / Outreach
Parachurch Organization
Professional Service
Rescue Mission
Social Service
Other
In addition, the survey data is reported for each position by revenue, employee size, entity and region. Various statistical measures are reported, such as the average, median and percentile data for each position.
A key finding is that there is a heavy reliance (more than 90.0% of participants) on the use of published surveys for establishing the market value for their jobs. Merit increases during 2011 to management positions averaged 1.4% with a slight increase to 1.7% projected for 2012. It is interesting to note that all respondents provide health insurance, with PPO (65.1%) being the plan of choice.
To learn more about the 2011 Compensation Survey Report for Christian Organizations, or to order the complete report, please contact Andrew Sellers at (877) 934-0505 x115 or log onto http://www.CompensationResources.com.
###