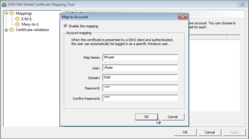 The Certificate to User Account mapping tool for Digital Certificate Authentication is the biggest thing to happen to a Windows SSH Server since GSW provides a true End to End FIPS 140-2 compliant option to the United States Military
Dawsonville, Georgia (PRWEB) November 01, 2011
The Certificate to User Account Mapping tool is used to configure the Digital Certificate Authentication security feature of the GSW SSH Server Windows (SSHD Windows), which includes Windows 2008R2, Windows Server 2008, Windows 7 as well as most of the previous Windows server and workstation versions such as Windows 2003 server and Windows XP.
"The SSH Server for Windows is often called a Secure Shell for Windows or an SSHD Windows," said Doug Hitchcock of Georgia SoftWorks. "SSH is becoming a standard for many organizations and a requirement for government institutions. Migration from telnet to SSH is easy because there are no changes to the application software. The SSH Server is installed on the Windows Server and SSH Clients are installed on the devices. SSH Clients are included with the GSW SSH Server at no extra cost. The GSW SSH Server for Windows (SSHD Windows) provides secure remote access including secure remote logon, secure data exchange and secure access to your application, even on an insecure network".
Weather called a SSH Server for Windows or a SSHD Windows, Digital Certificate Authentication is superior to username/password authentication and significantly simpler to setup and manage than plain public keys while providing additional security benefits such as non-repudiation, protection against 'Denial-of-Service' and 'Man-In-The-Middle' attacks.
The availability of 'One-to-one' and 'Many-to-one' mappings through a familiar and easy to use GUI greatly simplifies the process, providing a new level of security to commercial and industrial customers. "The Certificate to User Account Mapping tool for Digital Certificate Authentication is the biggest thing to happen on a Windows SSH Server (SSHD Windows) since GSW provided a true End to End FIPS 140-2 compliant option to the United States Military," said Doug Hitchcock.
The complexity of configuration and management of plain public keys has kept PKI security distant from many businesses without dedicated security departments. The SSHD Windows Certificate to User Account mapping GUI provides this level of security to system administrators that manage data collection devices, barcode scanners, and associated networks and servers. For security departments with old style PKI configuration skills, the new Certificate to User Account Mapping tool will streamline their configuration and significantly reduce maintenance time.
About Georgia SoftWorks
Established in 1991, Georgia SoftWorks is a privately held software development company recognized for creating high performance data communications, system and telecommunication applications.
Georgia SoftWorks has obtained worldwide presence with its industrial quality SSH/Telnet Server for Microsoft Windows. GSW's long-term commitment to SSH/Telnet has led to the pioneering of major features such as Session Shadowing, Session Monitoring, Graceful Termination, Automatic Logon, Logon Scripting and Session Saver. Additionally GSW pioneered the breakthrough Team Services features that provide mobile device users with unprecedented user collaboration with the ability to share, swap, transfer and recover sessions. GSW is also well known for the first practical implementation of certificate based logon for SSH Server for Windows.
###