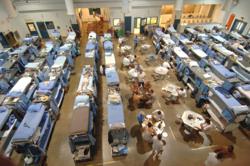 Reason and empirical evidence, not politics and emotion, should be the guide to criminal justice policymaking
Burbank, CA (PRWEB) November 03, 2011
The time for reform in the criminal justice system is long overdue say criminal attorneys from LibertyBell Law Group. Senator Webb recently addressed the American Bar Association's Criminal Justice Section and said, "We over incarcerate." "Eleven days ago all but four of the Republicans in this body filibustered a common-sense piece of legislation that would…examine our broken and frequently dysfunctional criminal justice system, and to make recommendations as to how we can make it more effective, more fair, and more cost-efficient" said Webb on November 1 when speaking on the Senate floor.
LibertyBell Law Group criminal attorneys find hope in the words spoken by Webb. Earlier this year, Senator Webb re-introduced the National Criminal Justice Commission Act (S. 306), which is designed to bring together the best minds in America to analyze the criminal justice system in its entirety and make recommendations for reform based on empirical evidence. The act creates a new bipartisan Criminal Justice Commission that will make the first comprehensive report since 1965 on the state of criminal justice in the U.S. It will examine the drug war, overcrowded prisons and more criminal justice issues and encourage reforms to criminal justice and corrections policies.
The "tough on crime" and "war on drugs" criminal justice policies have resulted in the U.S. having the highest incarceration rate in the world. The National Council on Crime and Delinquency states the U.S. incarcerates almost a quarter of the prisoners in the entire world, though it has only 4.5% of the world's population.
Webb vowed that he would not give up stating, "We will keep fighting for a comprehensive review of the justice system, with the help of the thousands of sheriffs, police, mayors and justice advocates who have joined us in pressing for reform."
LibertyBell Law Group's attorneys agree with Senator Webb's statement on criminal justice reform, "The filibuster of a common-sense measure that might assist this nation in resolving the national disgrace that now comprises our criminal justice system is a sad metaphor for the obstructionism that is too frequently replacing common sense leadership in our national debate."
"It's time we examine the facts and statistics in criminal justice policies and cut the red tape, delay and inaction," says attorney Gina Tennen of LibertyBell Law Group.
Crime rates have fallen to levels last witnessed in 1966 according to FBI's Uniform Crime Reports (UCR). The increase in the number of prisoners is not because there are more criminals but because of the increased amount of time served in jails and prisons all across the nation due to changes in sentencing policy and practice.
Changes in criminal justice policy and practice include the "three strikes" mandatory sentencing and widespread abandonment of parole in the state and federal systems. Other mandatory sentencing laws prompted by President Richard Nixon's "war on drugs" launched four decades ago have resulted in the incarceration of millions of nonviolent drug offenders. Mandatory sentencing laws began in the 1970's, incited by the "war on drugs," and came to a peak in the early 1980's, when President Ronald Reagan once again declared a more militant "war on drugs." Mandatory sentencing laws require a minimum number of years served in prison. Since 1980 the overall rate of incarceration increased by more than 350% despite continuously falling crime rates reports the Bureau of Justice Statistics (BJS).
The overall incarceration rate hit an all-time high in 2008 with one in 100 adults in prison or jail as calculated by the Public Safety Performance Project. Only few states have studied the efficacy, impact and trade-offs of these policies that inflate incarceration.
The growth in the nation's prison and jail populations has been accompanied by an equally dramatic growth in spending. Based on data reported by the Justice Policy Institute (JPI) $68 billion dollars a year are spent on a system that does not definitively improve public safety. Their research also shows states that have increased their prison populations have not seen concurrent decreases in violent crime and states that have reduced incarceration rates have seen some of the largest drops in violent crime.
States like New York and Texas have drastically lowered their incarceration rates and are presently experiencing the lowest state crime rates in decades reports UCR. Criminal justice reforms have made these states smarter in dealing with crime. Not only has their public safety increased but they have also dramatically lowered their costs. These states and similar states that have begun to adopt similar policies highlight the importance of rational, evidence-based criminal justice policymaking.
Prison budgets have been stripping budgets for higher education. According to the National Association of State Budget Officers, between 1987 and 2007 budgets for corrections increased by 127% compared to a 21% increase for higher education. The government's skewed budgetary priorities are an unfortunate reflection of society's hollow values. Mandatory sentencing and prison budgets have little to do with criminology and more to do with politics and sensationalist campaigns.
Reason and empirical evidence, not politics and emotion, should be the guide to criminal justice policymaking. Economic efficiency and the value of compassion can be illuminated by empirical research. The problem prudently lies in the interest of getting on with empirical research and applying the appropriate empirical tools to evaluate policymaking.
Despite the history of mandatory sentencing and it's affect on tax dollars, education and little empirical evidence to support the effectiveness as opposed to treatment-oriented approaches, new mandatory sentencing laws are in the books. The United States Sentencing Commission establishes new mandatory sentencing laws in their new 2011 Sentencing Guidelines Manual to be effective November 1 of this year (2011) and includes changes to theft related crimes, firearms, immigration and more.
Aside from the increased expense of prisons and jails, mandatory sentencing allows injustice to occur as defendants are not considered as individual human beings and judges are stripped from their discretionary legal authority. Mandatory sentencing laws are stark and cold and do not allow judges to consider the facts of each case say LibertyBell Law Group's criminal defense attorneys.
In effect, mandatory sentencing shifts power from judges to prosecutors as it gives prosecutors more reign to coerce defendants into guilty pleas by offering plea bargains with lesser charges and sentences. Criminal defense attorneys and experts from LibertyBell Law Group say that whether you are guilty or innocent, everyone is faced with the same pressure to plead guilty because you get a much bigger discount on sentencing from the prosecutor. Defendants face an enormous pressure to play the odds and accept a plea bargain rather than face much harsher charges and sentencing if found guilty in a trial.
If a defendant does opt to go to trial and cannot pay for a private criminal attorney their only best option is a free public defender or court-appointed attorney. Many of which do not have the time or resources to give appropriate legal counsel. JPI's research has shown that cases represented by public defenders and court-appointed attorneys result in less justice and more jail time, which also results in more tax payer dollars to prisons and jails. According to the latest report by the National Center for State Courts that assessed data from nine states, one in 50 felony cases now make it to trial.
In 2004, CBS' 60 minutes Ed Bradley aired a story on mandatory sentencing that featured a convicted defendant, 19 year old Brenda Valencia, who had no prior criminal history and an unfortunate outcome. Brenda Valencia was sentenced to 151 months without parole because she drove her roommate's stepmother, who didn't have a driver's license, to a house that sold seven kilos of cocaine. Brenda Valencia received a 10 year mandatory sentence and because her passenger carried a concealed weapon, Brenda received two additional years. The sentencing judge remarked on how, in this case, mandatory sentencing was "...not only absurd, but an insult to justice… considering the degree of participation that this defendant had in the crime."
"Tough on crime" and "war on drugs" criminal justice policies have resulted in justice being sidestepped at many angles, public safety not definitively increased, and states and governmental agencies struggle with their rising budget deficits while taxpayers pay the burden.
###