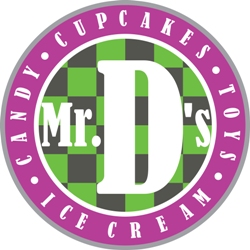 Wallingford, CT (PRWEB) November 01, 2011
How many stores offer gourmet cupcakes, coffee, candy, locally-made ice cream, and toys under one roof? Located in Wallingford, Conn., Mr. D's is such a place. Just slightly over a year old, this bakery with an ice cream parlor, candy shop, and toy store rolled in one has grown in popularity in the area and, as a result, is expanding its catering services. Without any promotion, Mr. D's catered 10 weddings in 2011 and has provided its desserts to town events and events at Choate Rosemary Hall. To anticipate, Mr. D's is ready with greater in store baking capacity and for a possible increase in staff. Mr. D's also provides delivery and setup for its cupcakes.
Wedding are just some of the events Mr. D's caters with desserts, cupcake trees, or candy bars. Graduation or birthday parties, christenings, confirmations, corporate events, bar and bat mitzvahs, and town or holiday events are also appropriate occasions for Mr. D's catering services. For any of these events, Mr. D's brings its popular cupcakes or other baked goods or sets up a candy bar full of treats that guests can scoop out of decorative containers into bags. Those working with Mr. D's for catering can choose from several classic and original cupcake flavors and candies from in-store and catalog inventory.
Mr. D's was founded by Anne and Bill DeFusco in July 2010. With fun and bright décor that evokes nostalgia, the store has 129 bins of candy in front, a bakery counter and Praline's ice cream parlor, and classic candy items and retro and modern toys in the back. All cupcakes and baked goods are made fresh daily, and 250 types of candy are available, including Gummi Bears, jellybeans, chocolates in glass bins, and old-fashioned treats like Mallo Cups and Squirrel Nuts. Toys, similarly, range from classic activities and games to many modern items by Melissa & Doug and more popular brands.
Mr. D's is also a Praline's Ice Cream franchise. Fresh and locally-made in Wallingford, Praline's has been Connecticut's original Super Premium Ice Cream for the past 25 years. 28 flavors of Praline's are available at Mr. D's and are used for milkshakes, specialty sundaes, and custom ice cream cakes.
Cupcakes are Mr. D's most prominent item. Batches of cupcakes are baked daily with the finest ingredients and are based on the family's original recipes. Mr. D's makes more than 25 cupcake flavors ranging from classic vanilla to more unusual yet tasty combinations: Chocolate Salted Caramel, a chocolate cupcake filled with salted caramel iced with chocolate buttercream and topped with chocolate drizzle; Black Bottom, a chocolate cupcake with cream cheese and chocolate chips, iced with cream cheese frosting; Cannoli, a vanilla and chocolate chip cupcake iced with cannoli cream; and Hummingbird, a coconut and pineapple cupcake with cream cheese icing. Gluten-free and specialty cupcakes are also baked daily.
Aside from sweets, Mr. D's makes lunch items and specialty drinks, including delicious cheese sandwiches and tomato soup, bubble tea with tapioca pearls, drip coffee, lattes and cappuccino, and 100-percent fruit smoothies. Mr. D's is open daily and can work with any individual, business, or organization to cater a wedding, party, or event. Press release services and search engine optimization provided by Keyword Performance.
###