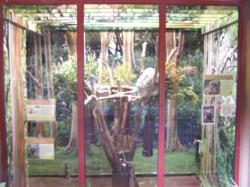 We wanted the exhibit to reflect the care the animals
receive.
San Francisco, CA (PRWEB) November 02, 2011
Visiting a zoo is an adventure that creates lifelong memories. Zoos offer thrilling encounters with exotic animals from all over the world. In one location, it's possible to see grizzly bears napping in the sun, a majestic lion shaking out his mane, or a giraffe running across a field. Lucky visitors may witness the power of a gorilla pounding his chest or feel tingles when the wolves howl.
According to the San Francisco Zoo's mission statement, the Zoo aims to connect people with wildlife, inspire caring for nature and advance conservation action. Their website informs, "We designed the Zoo with the underlying belief that interaction and activity lead to conservation action. We hope that caring for specific animals will inspire people to care for all wildlife and that this is the first step in the journey to becoming a conservationist."
The newly improved koala exhibit demonstrates the Zoo's commitment to its mission. Four adorable koalas, Koori, Laliandrea, Amaroo and Cynthia, live at the San Francisco Zoo. While the koalas are well cared for, the Zoo did not feel their exhibit was up to par. David Jaffe, Assistant Curator of Special Projects, confirmed, "We wanted the exhibit to reflect the care the animals receive. It was very plain to begin with."
Koalas are often referred to as bears, but this is a misnomer. Koalas are actually marsupials. The San Francisco Zoo reports that koalas sleep a lot. They are fed fresh eucalyptus leaves every day. The koalas only eat the new growth of the branches or the "tips." When they are not eating, they are usually found snuggled in their nests fast asleep.
With this in mind, Jaffe looked for options to improve the Koala enclosure. He knew he wanted to incorporate eucalyptus trees and worked with Joseph Merritt Company to create a new look for the habitat using 3M exterior graphics.
Headquartered in Hartford, CT, Joseph Merritt Company has been printing and installing interior and exterior murals for more than twenty years. Merritt's use of premium medias and inks ensure extreme durability and highest print quality for the exhibit's longevity.
Jaffe asserts his satisfaction with the outcome; he states, "Merritt provided excellent customer service and the installers they used were great. They went beyond what was originally asked of them to make the exhibit a true success. I look forward to working with Joseph Merritt in the future on more mural projects." When asked if the koalas seemed happier in their new home, Jaffe happily replied, "Yes."
To learn more about the koalas and the San Francisco Zoo, please visit: http://www.sfzoo.org
To learn more about Joseph Merritt Company, please visit: http://www.merrittgraphics.com
# # #