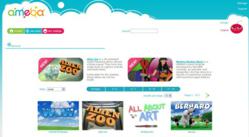 "We have become a multi-platform service giving children access to great kids TV content no matter where they are." - Ameba TV CEO Tony Havelka
Winnipeg, Canada (PRWEB) November 02, 2011
Ameba, an IPTV company based in Winnipeg (http://amebatv.com), has announced their official launch on the LG Smart TV platform in the USA and Canada. Families with a LG Smart TV device now have on demand access to thousands of hours of award winning kids TV.
"We are excited by the growth of Ameba over the past year and energized by the growing list of smart TV providers that support our content library," says Ameba CEO Tony Havelka. "We have become a multi-platform service giving children access to great kids TV content no matter where they are."
LG's Smart TV platform helps viewers integrate all of their digital media content seamlessly through one device—something viewers are already trying to do. Whether it is a LG Smart TV, 3D Blu-ray player or the LG Smart TV Upgrader, families can enjoy Ameba kids TV on demand and other digital entertainment services right from the convenience and comfort of their living rooms. LG Smart TV owners can get unlimited instant access to Ameba for a flat $3.99 monthly fee.
The Ameba content library, which contains more than 2,000 hours of educational, preschool, music and multi language programming aimed at kids and tweens ages 2-12, includes content from Decode Entertainment, NCircle Entertainment, Breakthrough New Media, Casablanca Kids, Sockeye, Marble Media, Portfolio, TVO, Agogo Entertainment, Genuine Pictures, and many other independent producers. Commercial-free programming includes classic titles like Skinnamarink TV and Dudley the Dragon, new series such as Cat in the Hat and Busytown Mysteries, and award winning series such as Raggs and Ruby Skye PI.
Recently-acquired kids TV partners and programming include: NCircle Entertainment (Cat in the Hat - English & Spanish versions, Sid the Science Kid, Busytown Mysteries, Animal Atlas - English & Spanish versions) Jill Golick (Ruby Sky P.I.), Engineer Guy (Engineer Guy); HGagnon (Alien Zoo, Monkey Monkey Music, Traveling Stone); Turmeric Media (Talkie Time); Addictive2 Music (Tree Top Sisters - English & Spanish versions); Chiron Films (French Kitchen); OhmTV (Bernard, Toonimals); and Genuine Pictures: (A World of Wonders, All About Art, Music Makers and Twinkle Toes – English and French versions). New episodes and animated shorts are added every day.
For more information about Ameba TV, see http://www.amebatv.com
For more information about LG, visit http://www.LG.com.
# # #