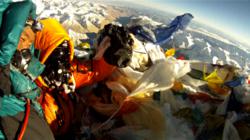 San Francisco, CA (PRWEB) November 01, 2011
After scaling the world's highest mountain, Jeffrey Gottfurcht, the first patient with Rheumatoid Arthritis to conquer Mount Everest has announced a series to climb the Seven Summits*, the highest peak on each continent.
Gottfurcht will join a unique club of fewer than 200 individuals who have climbed these seven peaks, and the only one with Rheumatoid Arthritis. Prior to summiting Mount Everest on May 14, 2011, he had scaled Mount Elbrus in Russia, the tallest mountain of Europe at 18, 510 feet in 2008.
Gottfurcht, the 38-year-old founder of The Jeffrey Gottfurcht Children's Arthritis Foundation (JGCAF), a wish-granting organization and former finance executive from the San Francisco Bay area, had scaled several mountains above 14,000 feet since his teens. At 28, Gottfurcht was diagnosed with this autoimmune disease, which attacks the joints and causes inflammation, joint pain and stiffness, while leading to fatigue and permanent joint damage. Without treatment, patients with rheumatoid arthritis (RA) may suffer deformity, disability and diminished quality of life – and would certainly not feel up to the grueling task of climbing Mount Everest.
"In coping with rheumatoid arthritis, an incurable disease, I have been moved to reach out to others who are similarly affected, especially children, who have to put everything on hold, including their dreams. Having achieved my life's dream and goal of climbing Mount Everest, I will work to conquer six more of the highest peaks around the world to inspire those with rheumatoid arthritis, whether adults or children, to reach higher and achieve their dreams," Gottfurcht said.
Next on the agenda is Cerro Aconcagua of the Andes Mountains; located in Argentina, it is the highest peak in South America and, at 22, 842 feet, the highest mountain outside the Himalayas. Gottfurcht will undertake an expedition in January, which is the summer season below the equator. He plans to climb one summit per year to continue to make dreams come true for children living with juvenile arthritis, until a cure is found.
As with the Mount Everest expedition, a key supporter of Gottfurcht's Seven Summits climbs is Rik J. Deitsch, Chairman and CEO of Nutra Pharma Corporation (OTCBB: NPHC), a biotechnology company that is developing treatments for Adrenomyeloneuropathy (AMN), Human Immunodeficiency Virus (HIV), Multiple Sclerosis (MS) and pain. Gottfurcht uses the company's medication NyloxinTM, an over-the-counter treatment for chronic pain, to aid in relieving the pain and inflammation that accompanies rheumatoid arthritis.
"We were proud to be a part of Jeff's extraordinary success during his historic Everest climb, and we continue to support the Aconcagua climb as well as his foundation's goals," explained Rik J. Deitsch, Chairman and CEO of Nutra Pharma Corporation.
"We want all chronic pain sufferers to understand that, if NyloxinTM can be effective for Jeff during extreme mountain-climbing conditions, just imagine how effective it will be to manage their own everyday pain and inflammation. Our continued sponsorship will prove invaluable to inform chronic pain sufferers and medical professionals of the power and efficacy of NyloxinTM, as well as building awareness of Juvenile Arthritis," he added.
Gottfurcht (38), the father of three young children, created the JGCAF, a wish-granting organization that grants dreams—ranging from requests to help cover educational and medical costs to requests for big screen computers, meet celebrities or go on shopping sprees—to help a child affected by juvenile arthritis to cope with limited visibility or mobility. Recently, a child from Lexington, Kentucky received a dream request for a family visit to Disneyworld. Separately, JGCAF will fulfill a young woman's dream to attend college. The next dream will be granted this month to a child in Honolulu, Hawaii.
Children age 4 to 21 afflicted with juvenile arthritis are eligible for a "wish grant." The Foundation encourages a member of a child's medical team (doctor, nurse, social worker or child-life specialist), a parent, sibling or legal guardian to propose a wish for a child suffering from juvenile arthritis. Children with juvenile arthritis may send in their dream request directly. After JGCAF receives the dream request the Foundation works with its network of supporters to make the wish come true. JGCAF's goal is to grant one dream a month.
In addition to announcing Gottfurcht's next climb and newly granted wishes, the JGCAF Dream Board recently named as a member Ronald (Ron) Schwary, known as the Academy Award winning Producer of Ordinary People, and executive producer and director of numerous movies and television series. Schwary joins an esteemed team of current Board Members such as Laura and Lisa Ling.
*EDITORS NOTE: The Seven Summits are Mount Everest (29, 035 feet Asia): Cerro Aconagua (22, 842 feet, South America); Mount Denali (20, 320 feet, North America); Mount Kilimanjaro (19, 340 feet, Africa); Mount Elbrus (18, 510 feet, Europe); Mount Vinson (16. 067 feet, Antarctica); the Carstenz Pyramid (16,023 feet, Oceania) and Mount Kosciuszko (7,310 feet Australia).
About JGCAF: The Jeffrey Gottfurcht Children's Arthritis Foundation was founded by Jeffrey Gottfurcht as a way to inspire, educate and generate awareness of both rheumatoid and juvenile idiopathic arthritis, as those suffering optimistically await a cure. In 2002, at the age of 28, Gottfurcht was diagnosed with RA and after undergoing years of treatment; he wanted to share his determination to fight the disease while bringing joy, strength and support to children and young adults similarly afflicted. A wish-granting Foundation, JGCAF accepts referrals for dreams from parents, guardians, siblings, members of the medical community, and directly from children suffering from juvenile rheumatoid arthritis. The Foundation's Dream Team helps select dreams that are prudent and possible and assists in making them come true. Help us fulfill a dream of a child living with Juvenile Arthritis today. For more information please call 310.855.3745 or visit http://www.JGCAF.org.
About Nutra Pharma Corp.: Nutra Pharma Corporation operates as a biotechnology company specializing in the acquisition, licensing, and commercialization of pharmaceutical products and technologies for the management of neurological disorders, cancer, autoimmune, and infectious diseases, including Adrenomyeloneuropathy (AMN), Multiple Sclerosis (MS), and Human Immunodeficiency Virus (HIV). Additionally, the Company markets several drug products for sale for the treatment of pain under the brands Cobroxin and Nyloxin. For additional information about Nutra Pharma, visit http://www.NutraPharma.com.
Note: To respect the privacy of its dream recipients, the JGCAF does not disclose their full names.
# # #