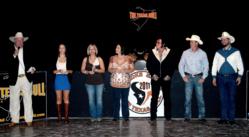 Establishments in California are putting their best Karaoke foot forward to host the Karaoke World Championships USA qualifying events
Cincinnati, Ohio (PRWEB) November 02, 2011
Karaoke World Championships USA (KWCUSA), home of ABC's Karaoke Battle USA, is off to best start ever for the new 2012 season. Last year was the first year KWCUSA started competitions as early as September. The 2012 season will be a very exciting year for the competition and the interest is at all-time high. KWCUSA is expanding to include state directors in each state responsible for the marketing and licensing in each state or in some cases portions of a state. In addition to the directors in each state, KWCUSA intends to extend the competition to ages 13 to 17 in a totally separate competition.
California, Florida, Texas, and Virginia are great examples of the excitement for the 2012 season. In California, Randy Lester and Wayne Hughes of MCS Entertainment will be the sole distributor of venue licenses in California. As the state director they will handle most of the KWCUSA marketing effort in California. Wayne says,
"Establishments in California are putting their best Karaoke foot forward to host the Karaoke World Championships USA qualifying events. Duke's Bar & Grill in Riverside is one of the first in California to join the ranks worldwide hosting a 10 week qualifying event culminating in a final night's competition that will see 1 male winner, 1 female winner and a people's choice winner to be sent to the California State Finals. Several other venues have become very excited about hosting a KWCUSA qualifying event and will be beginning their competitions soon."
Gallagher's in Dublin will host the Northern California state championships. MCS will market the entire state of California and will work with KWCUSA to determine the optimum venue for the Southern California State Championship. KWCUSA expects the entire state of California to be very dominant in the 2012 season.
Grove Theater in Upland, California is on board and brought into the competition by Sherry Kinison, a former competitor in the 2011 KWCUSA karaoke competition and Karaoke Battle USA
KWCUSA supports the karaoke industry and its anti-piracy efforts. In Florida, KWCUSA chose to work with Kara-O-King and Little Hoolies in southern Florida. Kara-O-King recently settled with suits with karaoke manufacturers and is truly one of the legal KJs. KWCUSA wants to support legal KJs in their efforts to run legitimate quality karaoke shows. Little Hoolies will be the state championship venue for South Florida and their winners will go directly to the regional KWCUSA karaoke competition. Little Hoolies, with its Irish flavor, should play huge in this year's competition, especially as the world championships will very likely be in Killarney, Ireland again this season.
In Texas, the growth is anticipated to be huge. It may be that Texas will have more venues than any other state and may be divided into an additional state from its current three state divisions. The Texas Bull in Gainesville, Texas leads the way in North Texas and is the state venue for that portion of Texas. Response at The Texas Bull has been incredible with over 100 auditions leading up to their qualifying karaoke events. Pictured, From Left to right, Bob Humphrey, Karaoke Battle, Texas Bull Producer, then State Finalist, Alexa Grover, Brianna Leigh, Diann Galvon, Gary Elrod, Ryan Collier, and Skip Roper, (Not Pictured Mike Davis and Ray Parker)
Longtime supporter, Russ Wristen and Buffalo Wild Wings in Abilene, Lawton Oklahoma, and Wichita Falls is anticipated to host their own state competition. Leading with total number of venues is San Antonio with 10 venues in San Antonio alone. Fred Medrano of You Be the Star Entertainment is the key person in San Antonio and a huge supporter of KWCUSA. Wendell Payne, President of KWCUSA says, "I will be traveling to San Antonio soon to visit with Fred and meet with San Antonio officials to discuss much bigger plans". And just getting on board this week is Backroads Austin.
Virginia is divided into east and west, but all come under the direction of Glenn Lorenz of Associated consultants. Just as MCS entertainment handles things in California, Associated Entertainment is handling Virginia. There are currently nine venues in Virginia. Steven Toyota of Harrisonburg, Virginia is hosting one of the two state competitions for Virginia. After last year's finals, Andria Jackson COO of Steven Toyota said, " We had our state finals yesterday, and HAD A BLAST! It was a great deal of fun! We are very interested in doing it again next year." And they are doing it again this year!
About Karaoke World Championships USA (KWCUSA)
KWCUSA mission is to organize, facilitate, and manage a viable, impartial competition for the entire United States.
KWCUSA goal is to include as many possible singers from all states and territories of the U.S.A. and provide this opportunity to all amateur performers to represent our country at the Karaoke World Championships.
KWCUSA objective is to identify, prepare, promote true U.S.A. karaoke champions utilizing all of our organizations resources efficiently and effectively observing all guidelines established by the Karaoke World Championship Organization and to provide the due diligence required to facilitate our mission in its entirety.
KWCUSA is the only organization in the United States affiliated with the Karaoke World Championship organization. KWCUSA champions exclusively represent the United States in the only international karaoke competition
The Karaoke World Championships (KWC) is the largest and most prestigious international karaoke competition in the world. This multi-cultural international music event without boundaries permeates the spirit of music, entertainment and fun.
###