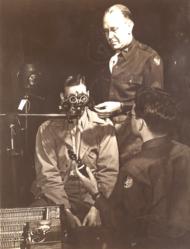 "This is an excellent exhibit that provides a clear and compelling voice to ophthalmology's contributions during World War II."
San Francisco, CA (PRWEB) November 02, 2011
An ophthalmic history exhibit created by the Foundation of the American Academy of Ophthalmology's Museum of Vision will be featured on the Museum's website throughout the month of November in recognition of Veterans Day. The online exhibit, titled "Eyes of War," explores the sacrifices and contributions of ophthalmologists as well as ophthalmic innovations made during World War II. Originally created in honor of the 60th Anniversary of VE Day, the online version of the exhibit includes ophthalmology's responses to World War II, wartime discoveries and the stories of ophthalmologist soldiers, freedom fighters and prisoners whose lives were changed forever by the experience of war.
Ophthalmologists played a pivotal role in the war both on and off the battle field. Many of the discoveries and innovations that occurred during World War II changed the face of medicine in wartime and beyond. It is estimated that nearly 3 percent of all of the war's battle casualties suffered eye injuries, and 15,000 soldiers were blinded. During battles, it took an average of 36-48 hours for an injured soldier to be seen by an ophthalmologist. This led to having ophthalmologists on the front lines and in forward hospitals, and to the improvement of support services to evacuate soldiers faster and get them appropriate eye care to save their vision.
Observations by doctors that 50-90 percent of eye injuries could be prevented with proper eye protection sparked ophthalmic innovation. The Army quickly realized the vast impact that improved eye health practices would have on performance and overall success.
In 1940, Germany launched the air attack known as the Battle of Britain. As part of the medical service, Dr. Harold Ridley came into contact with Royal Air Force pilots who suffered from eye injuries. Many of these injuries included fragments of airplane canopies that were made of polymethyl methacrylate also known as PMMA or Perspex. Dr. Ridley noted that the material seemed to be well-tolerated by the eye. In 1949, Dr. Ridley used his observations to develop the intraocular lens (IOLs). An intraocular lens is a clear, artificial lens implant used to replace a cloudy natural lens in cataract surgery. The first IOL created with PMMA was implanted in 1950.
"This is an excellent exhibit that provides a clear and compelling voice to ophthalmology's contributions during World War II," said Brig. Gen. Robert Enzenauer, MD, ophthalmologist and assistant adjutant general for space and missile defense, Colorado Army National Guard. "Within the fabric of the war's complex history, there is the thread that belongs to ophthalmology. Like so many professions, the war shaped ophthalmology by creating the need for innovations in industry, altering the course of institutions and changing the lives of individuals."
Note to media: High-resolution images and interviews with spokespeople available upon request.
About the American Academy of Ophthalmology
The American Academy of Ophthalmology is the world's largest association of eye physicians and surgeons — Eye M.D.s — with more than 30,000 members worldwide. Eye health care is provided by the three "O's" – ophthalmologists, optometrists, and opticians. It is the ophthalmologist, or Eye M.D., who can treat it all: eye diseases, infections and injuries, and perform eye surgery. For more information, visit http://www.aao.org. The Academy's EyeSmart® public education program works to educate the public about the importance of eye health and to empower them to preserve their healthy vision, by providing the most trusted and medically accurate information about eye diseases, conditions and injuries. Visit http://www.geteyesmart.org to learn more.
About the Museum of Vision
For more than 30 years, the Museum of Vision has helped educate people of all ages about the eye, vision and the history of eye care through exhibits, loans to educational institutions and the distribution of educational materials to the general public. Since its establishment in 1980 as a public education program of the Foundation of the American Academy of Ophthalmology, the museum has reached more than 30 million children and their families. The Museum's collection of artifacts is located in San Francisco and open to the public by appointment. More information on the Museum of Vision can be found at: http://www.museumofvision.org
###