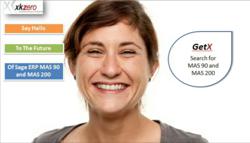 "Like a kid on Christmas morning," SEK Company President and MAS 90 user Brad LeGare wrote to us, "GetX potentially solves everything I didn't like about MAS 90."
Rosemont, Illinois (PRWEB) November 07, 2011
xkzero successfully completed its initial limited release of the new GetX Search for Sage ERP MAS 90 and MAS 200 to a cross-section of its client base last week. "Our findings confirmed our feeling that every user at every company will benefit from and should use GetX. We validated that the application is easy to install and setup (minutes, not hours) and is sufficiently flexible as to accommodate UDFs and most 3rd party add-ons without any additional effort. GetX proves to be instantly understood by all users, and provides the avenue to saving time for everyone who is a regular user of MAS 90 and 200. And, it helps reduce some of the unwanted training costs for the client," said Paul Ziliak, co-founder of xkzero.
xkzero will soon announce a full roll out to its current client base next week, and then make GetX available to the general Sage MAS public through the Sage ERP MAS reseller channel around Thanksgiving.
"Like a kid on Christmas morning," SEK Company President and MAS 90 user Brad LeGare wrote to us, "GetX potentially solves everything I didn't like about MAS 90."
GetX is providing resellers an inexpensive application they can use to attract off-plan customers. "At xkzero, sending one text-only email to our client base introducing them to GetX resulted in two companies (both long expired on maintenance) requesting quotes that day to get current on their maintenance. Three weeks later the first of them closed. The company is a food manufacturer who had been off plan since 2004," Added Ziliak, "With GetX, MAS 90 joins only a small number of ERP/accounting software systems, such as Epicor and Sage X3 to offer so-called universal search. We think it will be a deal closer for new MAS 90 and MAS 200 buyers.
"We're seeing a new era of innovation being lead by the Sage Channel. xkzero is committed to making that happen."
###