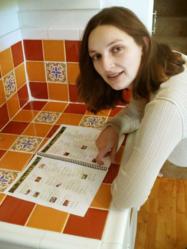 I was surprised how personal it was, and how much it meant to my mom to see all her recipes handed down. She literally had tears in her eyes.
Boise, ID (PRWEB) November 04, 2011
When Ted Miller lost his job a few years ago, he was broke and dreading Christmas. "I only had a few bucks, and I wanted to stretch that money out. So I thought, why not take all of my mom's recipes and make cookbooks for her and the rest of the family?" Some typing and $30 later, and he had five family cookbooks to place under the Christmas tree. "I was surprised how personal it was, and how much it meant to my mom to see all her recipes handed down. She literally had tears in her eyes. Mom still says it's one of her favorite presents ever."
With tightening budgets and the rising cost of travel, many families are planning for a toned-down holiday season. However, families are finding that just because they may have to forego the giant family dinners, they do not have to give up on the traditional family cuisine. Many gift-givers see this as an excellent opportunity to share their cooking heritage without breaking the bank.
There are typically three different ways to turn family recipes into great gifts: recipe binders, recipe boxes, and printed cookbooks. Each has its advantages and disadvantages, according to Erin Miller, wife of Ted and owner of CookbookPeople.com. "I love keeping family recipes," says Erin. "When I saw what Ted made, I just knew I had to make a business out of this. After a lot of hard work, we're now the largest online store of recipe binders, recipe boxes and our own cookbook-printing software, because really, each has its own benefits."
RECIPE BINDERS: These are by far the most popular way to organize recipes. Many such binders are flimsy white binders bought for under $4 at any office supply store. "They don't have to be ugly, cheap-looking and overcrowded, though," says Erin. "You can buy a beautiful binder that will show your pride in your recipes for under $20." They can have ornate designs, be made out of leather, and be filled with page protectors and dividers to better organize and store fragile recipes.
Recipe binders come in two categories: half-page and full-page. Half page binders fit half of an 8.5"x11" normal sheet of paper (5.25"x8.5"). Their compact size, lower cost and lighter weight make them the more popular format. Full page binders fit a full size sheet of paper, hold twice as many recipes, and are perhaps more impressive as a gift. Either may be customized with tab divider labels to better personalize the layout. Page protectors ensure recipes are not damaged by spills, and make them easier to reorganize as the recipe binder grows. Most can hold both recipe cards and printed out cookbooks.
Prices for half page binders vary from $15 to $30, while full page binders vary from $15 to $90. Either type of binder, when loaded with personal and family favorites, will have much more value than what was paid. Recipe Binder Selection at CookbookPeople.com.
RECIPE BOXES: Dating back to at least the 1930's, the recipe box is the most traditional recipe storage medium. Its small footprint makes it great for tiny kitchens, and it can be especially ideal for those who maintain a small selection of recipes. A box packed with 30 or 40 hand-written recipes can make a truly touching gift.
Recipe boxes have their practical limitations, though. Newspaper clippings and printouts don't easily fit. The cards are not well protected from wear. They can become easily disorganized. Hand-written cards are by nature more difficult to duplicate. But for those who love the age-old tradition of swapping hand-written recipe cards with a good friend, a fine recipe box can make a delightful gift.
The Cookbook People offer boxes for as little as $15, and American-made oak and walnut wood recipe boxes for $30-$40. A sustainably harvested bamboo recipe box may be a good fit for those passionate about the environment. Most recipe boxes sold today fit the more old-fashioned 3x5" cards as well as the more modern 4x6" cards. A few boxes may handle very large 5x7" cards, but this is not common. Many boxes come with matching cards, but The Cookbook People also sell cards separately to allow mixing and matching. Recipe Box Selection from Cookbookpeople.com.
PRINTING A COOKBOOK: In an era where anyone can become a publisher, writing and printing one's own family cookbook is certainly a great option. Recipe sharing sites like Tastebook offer full-color printing of up to 100 recipes for $35 per book. The printing quality can be fantastic. However, there are drawbacks. Printing more than a few books can quickly become expensive. Once the book is printed, it stops being an evolving recipe collection that is added to and revised as tastes expand. Also, check end user license agreements—many state that the recipe site retains ownership of all recipes entered into it. Grandmother's secret chocolate silk cake could wind up in a place that the customer never intended.
Another alternative for printing a cookbook is Matilda's Fantastic Cookbook Software, published by The Cookbook People. Because it installs on the user's own computer, there are no privacy issues. Printing can be done on the home printer for free, or it can be handed off to the local copy shop. Another option is to print at home and have the copy shop spiral bind the book for a dollar or two. The Cookbook People also offer printing services at competitive prices. Many customers find the most flexible, elegant solution is to print out their cookbook at home and then simply insert it into a recipe binder.
The software is famously easy to navigate, with only three screens. Its one-click template system gives the author the ability to choose from 27 different layouts, featuring religious, cultural and stylistic themes. It includes the ability to print a front and back cover, table of contents, recipes with photos, birthday calendar, address book and biography. This makes the family cookbook something of a reference tool for the entire family. The software costs $29.99, but printing and storing recipes is free. Cookbook Software details at CookbookPeople.com.
Perhaps the biggest advantage to this system is that it is little more cost and effort to print ten books than it is one. An author may create very personalized gifts for dozens of friends and family for the holidays, and then print updates in the coming years.
No matter which method is chosen for documenting family recipes, Erin says the important part is to just make it happen. "I can find online millions of fantastic recipes for key lime pie. But there's only one recipe for my mom's key lime pie," says Erin. "Sadly, I may not see Mom this year. But I'm going to call her and tell her my son and I made her pie for Christmas just like we always do. And some day when she and I are both gone, maybe my son will be sharing that recipe tradition with his own children and grandchildren." In this way, organizing and giving a family recipe collection can be both extremely affordable in the short term, and priceless in the long-term.
The Cookbook People will be able to quickly furnish a variety of additional print-ready photographs of recipe binders, recipe boxes and printed cookbooks upon request. For additional interviewees, they can also provide contact names (or simply examine the published customer reviews on their site). They are also willing to ship sample copies of binders and boxes to members of the media.
# # #