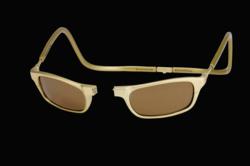 For every purchase of CliC-Golds made directly through Lisa Bautista, a portion of the proceeds will be donated to Bread & Roses.
San Francisco Bay Area, California (PRWEB) November 03, 2011
Monday, August 29, 2011, marks the day that Lisa Bautista of JFM Presents, LLC had a "chance encounter," which forever changed her life. As Entertainment Publicist for The RRazz Room, Bautista meets with press on opening nights. However, that Monday, happened to be night 2 of 3 for Peter Asher's "Musical Memoir of the '60s and Beyond." Also in attendance for were Robin Williams and Susan Schnider (recently wed on October 25). Bautista, normally sits with Robert Kotonly, co-owner of The RRazz Room. But that night, Bautista had a guest, so they were seated directly behind Williams, Schnider and Kotonly. At the table next to Bautista was Ron Lando, a huge Peter Asher fan, and CEO, CliC Goggles.
Making connections, one concert at a time.
Prior to the concert, Lando needed to step outside, so he asked Bautista to keep an eye on his table. Anyone who knows Bautista can appreciate her response, "Sure, but don't take too long; otherwise, you will be charged." The cheeky response was a reminder that the concert would be starting soon, so be mindful of the time. Lando returned soon thereafter, and the two discussed Peter Asher and made other musical "connections." Bautista's guest for the night was Marian Hubler, Producer/PR Manager for Bread & Roses, a nonprofit organization founded by Mimi Farina, sister of Joan Baez. Since May 2010, Bautista has been a volunteer host for Bread & Roses, whose motto is "Hope and Healing Through Live Music."
Going for the gold!
CliC-Gold now manufactures 18K solid gold eyewear, the most expensive readers in the world. Not often in one's lifetime can you see a piece of fine jewelry cross over into the optical world. "CliC-Gold" did just that by creating the world's most expensive reading glasses. Founder, Ron Lando, has been in the eyewear industry for 35 years. He is the inventor and worldwide patent holder for CliC eyewear, the skeleton for the solid gold eyeglasses. Without hesitation, Hugh Power, an internationally renown jewelry designer, worked with Ron to bring the world this piece of art, this most incredible piece of optical jewelry. Each "reader" is literally handmade and handcrafted in 18K Sold Gold by a Master Jeweler in the USA using old-school techniques and generally taking up to 50 hours to complete. "The concept of CliC Eyewear is so unique, it's like taking the legs off a chair and you still have a chair"… Eyewear has not changed in over 100 years!" ~Ron Lando
You look as good as you feel.
CliC-Gold has created a Limited Edition of 300 pieces, each with a Lifetime Warranty. No one else in the world can offer you a piece of eyewear with these standards, using this patented magnetic front connection system. CliC-Gold's easy-on, easy-off front connection puts the wearer in control. Replacing the traditional temple is an ultra-light moldable gold headband with 18K gold extendable side pieces and an 18K gold expandable back made to fit everyone. "It's when you actually put them on your face, that the CliC-Gold readers come to life; you can feel the substance of the gold," says Power. "It's an amazing feeling... they really make you feel good." And, how much does it cost to feel this good? Just $75,000 retail.
The Give-Back.
The result of said "chance encounter" is the opportunity for Bautista to serve as VP CliC-Gold Entertainment. Bautista strongly believes that there are no accidents. To her, a "chance encounter" means more than just a series of random events. For every purchase of CliC-Golds made directly through Lisa Bautista, a portion of the proceeds will be donated to Bread & Roses. Moreover, Bautista has been authorized to "gift" CliC-Golds to a handful of select A-List Entertainers. The gift is truly in the giving, and from now until Christmastime, Lisa Bautista, VP CliC-Gold Entertainment, will be Santa Claus.
# # #