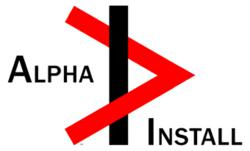 It became evident from talking to Mayor Voller that we were buying into a town planning for the future, and a town concentrating on sustainability and job growth," said Alpha Install CEO Keith McRae.
Pittsboro, NC (PRWEB) November 07, 2011
Alpha Install, a nationally known communications installation company, is proud to announce plans to expand and relocate the company headquarters to Pittsboro, North Carolina, proximal to Raleigh-Durham-Chapel Hill and the Research Triangle Park. Alpha Install supports complex deployments of technology equipment into vehicle fleets and into remote site locations. The Pittsboro property, located on Highway 15-501 at 697 Hillsboro Street, consists of 16,500 square feet of enclosed space with 6500 feet of office space and roughly four acres of paved parking. The company plans to move existing equipment and personnel after upfit on the building has completed.
Alpha Install specializes in the installation of specialized data communications and technology equipment into client's vehicle fleets and other remote, non-office environments including sub-stations, satellite locations, barges, motorcycles, emergency trailers, etc.. The company, presently headquartered in Chapel Hill, North Carolina, began researching a future home in 2009. The management team sought a safe, business-friendly, and sustainable community environment with a strong job market and good quality of life for its employees.
The team researching site locations was impressed with Pittsboro Mayor Randolph Voller's work on the town's infrastructure, his attention to recreational space, green-space, economic vitality, and transparent government. His successful tenure as a multi-term mayor reflected the town's commitment to his goals. "Understanding the vision the Town of Pittsboro has for sustainable growth was key to our decision process as our company made relocation plans," indicates Alpha Install Vice President, Joseph Goss.
"We need a large industrial building with ample office space, and we want to be proximal to a populous area, such as the Triangle region, in a place that people want to live. Mayor Voller met with us a number of times, and was instrumental in our selecting Pittsboro and 697 Hillsboro Street. It became evident from talking to Mayor Voller that we were buying into a town planning for the future, and a town concentrating on sustainability and job growth," said Alpha Install CEO Keith McRae. "We look forward to contributing to this vibrant community," he added.
Alpha Install has plans to begin a hiring process to increase staff size with placements including strategic account development, project management, and installation specialists.
About Pittsboro, North Carolina
Pittsboro, NC is in the heart of Chatham County, one of the fastest growing counties in the state of North Carolina. It is the county seat and, as such, home to the Chatham County Government Complex employing more than 1300 people.
Residents of Pittsboro embrace small town values of respect for one another and a strong sense of community. Its' people are a diverse group of artists and farmers, merchants and students, and it is home to the North Carolina Zen Center. It supports software developers, bio-fuel research and production, antique shops and art galleries.
Pittsboro is ideally situated at the intersection of US 64 and Hwy 15-501. It is 16 miles to Chapel Hill, 25 miles to Research Triangle Park, and 32 miles to Raleigh. It's a short drive to recreation areas at Jordan Lake State Park (visited by 1-2 million people annually). It is adjacent to the State's newest Natural Area – 960 acres along the scenic Haw River.
About Alpha Install
Alpha Install is a national installation company specializing in communication & technology equipment deployments. Alpha Install manages the installation of communi
cations and technology equipment onsite into client's vehicle fleets and satellite locations. Alpha Install excels at managing the services for a complete deployment: pre-sales equipment validation, scheduling logistics, on-site installations, and lead-out testing. The company follows process driven methodologies that delivers consistency, quality, and high customer retention.
Alpha Install's core mission is to provide quality deployment services comprised of consistent reliable installations, start-to-finish professionalism, focused knowledge and broad experience to create frequent customers out of every client. The majority of deployment companies in the market subcontract projects out to many companies, usually to the lowest bidding subcontractor. Quality varies from job-to-job, site-to-site and even vehicle to vehicle. Alpha Install hires its own employees with full benefits, and requires the training and certification of these specialists for each task they need to perform. Alpha teams pass FBI background screens and qualify for the most stringent security clearances.
Alpha Install has performed tens of thousands of quality installations across the country, has provided services for many of the largest fleets in the country, and has installed many hundreds of unique devices into hundreds of vehicle makes and models and a wide variety of site locations. Alpha Install is nationally certified through many formal programs and experienced with manufacturers including Gamber-Johnson, Havis, Panasonic, General Dynamics Itronix, Getac, Cisco, Motorola, Whelan, Coban, Utility Associates, Sierra Wireless, Digi International, CradlePoint and Multitech.
Alpha Install's core team has installed a wide array of computing and communications equipment into diverse locations and equipment from helicopters to Hum-Vs, fast-food chains to fish farms, police fleets, ambulances, fire-trucks, metro buses, digital signs, even complete mobile computing stations on farm tractors and in tugboats. Alpha Install makes every client's installation and deployment project get done correctly, efficiently, ergonomically, and on-time.
The company may be contacted by calling 774-AlphaIn (774-257-4246) or by emailing sales at alphainstall.com.
All names, trademarks or registered trademarks mentioned in this release are property of their respective owners.
###