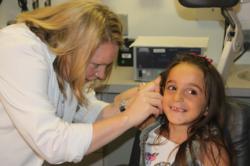 "You can't describe the look on someone's face when the hearing aids are in place and they hear those first sounds"
Riverhead, NY (PRWEB) November 05, 2011
Mitchel Shapiro, Founder of Foundation For Sight & Sound and Dave Carr, co-founder of Help America Hear and a 3rd generation Hearing Instruments specialist will oversee the fitting with the staff from McGuires. "It is such a rewarding feeling to make a difference to people who are less fortunate" says Dave.
The Foundation For Sight and Sound, a 501(c)3 not-for-profit organization and their Help America Hear Program provides hearing aids to men, women and children with a moderate to profound hearing loss that lack the financial resources to obtain them on their own.
The Help America Hear Program was created by Mr. Shapiro & Mr. Carr, in January 2009 and has since fitted over 190 people nationwide with high quality ReSound hearing aids. With the minimum cost of a hearing aid averaging $2,000, many individuals are unable to afford this necessary tool for improving their quality of life. For more information on Foundation For Sight & Sound go to whttp://www.foundationforsightandsound.org
Hearing loss is a silent disability; it has no boundaries and can affect everyone. "It may not be life threatening but it is life altering", says Mitchel Shapiro, co founder of Help America Hear.
About the Foundation for Sight & Sound
The Foundation for Sight & Sound's mission is to enhance the quality of life for men, women and children with vision and/or hearing challenges.
The Foundation for Sight and Sound has developed the Help America Hear Program to provide hearing aids for men, women and children with limited financial resources.
Medicare, and in most states Medicaid, do not cover hearing aids. Many insurance providers also do not cover these costs.
The manufacturer suggested retail cost averages from $2,000 to $4,000 per hearing aid. With this program, each person receives: two hearing aids, custom ear molds and one year limited service.
Help America Hear is sponsored by the generosity of hearing health care providers, corporate and private donors, and manufacturers.
###