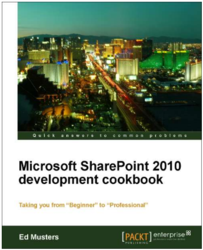 Birmingham, UK (PRWEB) November 06, 2011
Packt Publishing, one of the world's foremost publishers of Microsoft SharePoint titles, announces Microsoft SharePoint 2010 Development Cookbook. Written by Microsoft MVP, Ed Musters, the book and eBook is scheduled for publication in December 2011.
Microsoft SharePoint 2010 Development Cookbook is a new title from Packt Publishing, and a book that has been designed to take the experienced ASP.NET developer from beginner to professional SharePoint developer in the shortest amount of time. The Packt Cookbook contains detailed step-by-step recipes for effective task completion, and practical examples that cover builds and flows. More details can be found on the Packt Website.
Packt Publishing has published numerous Microsoft SharePoint books. 2011 titles have included:

Microsoft SharePoint 2010 Development with Visual Studio 2010 Expert Cookbook
Microsoft SharePoint 2010 End User Guide: Business Performance Enhancement
Microsoft SharePoint 2010 Enterprise Applications on Windows Phone 7
Microsoft SharePoint 2010 Power User Cookbook
Microsoft SharePoint 2010 Administration Cookbook
All Packt's SharePoint books can be found on the Microsoft SharePoint category page.
About Packt. Packt Publishing is a modern innovative publishing company offering a wide range of books across Open Source and Enterprise software topics. In 2011, the company will publish more than 200 new titles. All Packt books are available in print, eBook, and selected library formats.
# # #