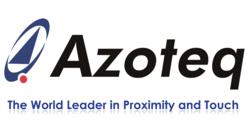 "Azoteq partnered with Mouser Electronics because Mouser offers excellent engineering resources and unsurpassed customer service that will make ProxSense® products available to a huge customer base", said Kobus Marneweck, VP of Marketing at Azoteq
Austin, TX (PRWEB) November 08, 2011
Azoteq, the world leader in proximity and touch solutions, today announced that Mouser Electronics has been chosen as Azoteq's exclusive worldwide catalog distributor. Azoteq's ProxSense® offers the most sensitive capacitive sensing solutions with the highest signal to noise ratio (>1000:1) in the market today. The high sensitivity enables proximity sensing up to 300mm and the ability to implement touch solutions that can work through 20mm cover materials.
"Azoteq partnered with Mouser Electronics because Mouser offers excellent engineering resources and unsurpassed customer service that will make ProxSense® products available to a huge customer base", said Kobus Marneweck, VP of Marketing at Azoteq.
"The addition of Azoteq to Mouser's global line-card offers engineers easy access to their high-performance capacitive sensing semiconductor solutions," added Mike Scott, Mouser Vice President of Semiconductors. "New designs incorporating touch and proximity sensing user interfaces offer consumers not only added functionality, but also aesthetically pleasing products."
Proximity sensing enables new applications such as detecting when a user's hand approaches the product. Features that can be implemented with proximity sensing include find-in-the-dark (enables backlight when hand approaches) and air gestures (wave hand to turn on/off, page and scroll). The combination of proximity and touch presents the next evolution in user interfaces.
Azoteq's product line up consists of single channel and multi channel (2 to16 channel), surface and projected touch controllers for implementation of touch keys, panels and keypads. Azoteq's also offers surface and projected touch screen controllers for screen sizes up to 15 inches. All devices provide proximity and touch detection. Azoteq offers evaluation kits for most of the devices that allow designers to get started quickly. The evaluation kits will also be available through Mouser.
Mouser caters to design engineers and buyers by delivering What's Next in advanced semiconductor technologies and electrical components. Mouser offers customers 19 global support locations and the latest, most technologically advanced components for their newest design projects. Mouser Electronics' website is updated daily and searches more than 8 million products to locate over 2 million orderable part numbers available for easy online purchase. Mouser.com also houses an industry-first interactive catalog, data sheets, supplier-specific reference designs, application notes, technical design information, and engineering tools.
About Azoteq
Azoteq (http://www.azoteq.com) is the world leader in next generation capacitive proximity and touch user interfaces that takes touch to the third dimension. Azoteq offers solutions for touch keys, sliders, scroll wheels, non-ITO touch screens, 3D touch screens and metal touch panels in consumer, medical and industrial applications. Azoteq has design and manufacturing centers in South Afica and China. Azoteq has sales offices and distributors in the USA, Europe, Asia and South Africa.
About Mouser Electronics
Mouser Electronics, a subsidiary of TTI, Inc., is part of Warren Buffett's Berkshire Hathaway family of companies. Mouser is an award-winning authorized semiconductor and electronic component distributor, focused on the rapid introduction of new products and technologies to electronic design engineers and buyers. Mouser.com features more than 2 million products online from more than 450 manufacturers. Mouser publishes multiple catalogs per year providing designers with up-to-date data on the components now available for the next generation of electronic devices. Mouser ships globally to over 325,000 customers in 170 countries from its 492,000 sq. ft. state-of-the-art facility south of Dallas, Texas. For more information, visit http://www.mouser.com.
Editorial Contact & Interviews:
Azoteq
Kobus Marneweck
+1-512-538-1995
kobusm(at)azoteq(dot)com
http://www.azoteq.com
Mouser
Further information, contact:
Larry Johannes, Mouser Electronics
Vice President Strategic Marketing
(817) 804-3534
larry.johannes(at)mouser(dot)com
For press inquiries, contact:
Kelly DeGarmo, Mouser Electronics
Corp. Communications & Media Relations Mgr.
(817) 804-7764
kelly.degarmo(at)mouser(dot)com
###