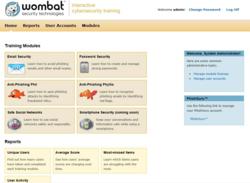 "Wombat's products enable our organization to aggressively confront cyber crime by proactively and effectively training our employees to recognize the most insidious attacks." Tony Hashem, VP of IT and CISO of a leading financial organization
Pittsburgh, PA (PRWEB) November 08, 2011
Wombat Security Technologies(Wombat) today announced key company updates including customer wins with Fortune 500 companies in industry segments that include transportation, government contracting, petroleum and healthcare. In addition, the company has more than doubled its number of customers in the last 8 months, raised additional growth capital and appointed new staff to its growing team of cyber security experts.
"Wombat's products enable our organization to aggressively confront cyber crime by proactively and effectively training our employees to recognize the most insidious attacks coming at them," said Tony Hashem, VP of IT and CISO of a leading financial organization. "Over the next year we plan to expand the use of Wombat products so we can further benefit from training employees on how to recognize and avoid advanced persistent threats caused by phishing, social media scams, and other attack vectors. Also, Wombat's analytics enable us to measure the success of our efforts and target training to those users that need it most. Thanks to Wombat, we can manage end user risk in a proactive fashion."
"Companies need to invest in security awareness and training for end-users, who should be made fully aware of their responsibilities for protecting the organization's sensitive data," said Derek Brink, vice president and research fellow for IT Security, Aberdeen Group. "Research findings confirm that investments in technologies to help protect data can be significantly eroded by insufficient investments in the training of people, who are often the weakest link."
Company momentum highlights include:

New Fortune 500 customer wins include a large government contractor, a petroleum company, a transportation company, and a healthcare organization
More than doubled the number of customers in the past 8 months
Released the revolutionary Security Training Platform in September, designed to dramatically change employee behavior online
Within two months, secured more than 150,000 licensed end users for the Security Training Platform
Raised additional growth capital to speed the Company's momentum
Named as Finalist for "Start-up of the Year" by the Pittsburgh Technology Council Tech 50 Awards
Made strategic hires in product development and sales and marketing
"We are seeing tremendous momentum on all fronts of the company because our approach delivers dramatic, measureable results," said Joe Ferrara, Wombat CEO. "We understand that training is about teaching just as much as it is about security, and incorporate proven learning science principles into the fabric of our offerings. Instead of one-dimensional information transfer, we engage end users interactively, creating teachable moments that facilitate real behavior changes. This approach not only reduces an organization's vulnerability to end-user attacks, but also provides CISO's with a way to gauge the effectiveness of their efforts."
Security awareness and training is fast becoming a strategic imperative as enterprises seek to manage risk by leveraging training efforts to help fortify their organization against its potentially weakest link. Evolving from a depth of cyber security research at renowned Carnegie Mellon University, Wombat has spent years refining its unique training methods and technologies that eliminate risky online behavior. The company provides a complete set of tools that an organization needs to effectively assess susceptibility to threats while simultaneously providing targeted training to the people who need it most.
About Wombat
Wombat is a pioneer in cyber security awareness training. With customers across North America, Europe, and Asia, Wombat Security Technologies provides a comprehensive and effective suite of cyber security training and assessment products. Wombat also offers anti-phishing filtering solutions that have been shown to be significantly more effective than the most popular anti-spam filters when it comes to catching phishing attacks, including zero-hour attacks. Wombat's products have been licensed for use in sectors as diverse as finance, government, insurance, healthcare, manufacturing and technology. For more information visit http://www.wombatsecurity.com or email info(at)wombatsecurity(dot)com.
###