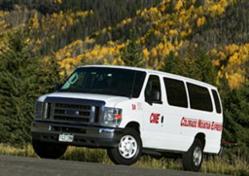 60 to 80% of inbound travelers are unaware of transport options to reach Colorado ski resorts
Denver, CO (PRWEB) November 18, 2011
Gondola Resorts, a regional leader in vacation rentals and luxury hotels, announced today a strategic partnership with Colorado Mountain Express(CME). CME offers shuttle service and privately chauffeured four-wheel drive SUV's to destinations including Aspen, Breckenridge, Copper Mountain and Keystone resorts. CME's diverse transportation services will enable guests of Gondola Resorts to add quick and easy transfers from not only Colorado airports, but from downtown Denver.
"For over 25 years, CME has set the standard for excellence in ground transportation offering a variety of services and flexible options for guests traveling to the Colorado ski resorts, and we're excited to offer their services to our guests", said Gino Malara, Gondola Resorts' CEO.
Gondola Resorts sources revealed that between 60 to 80% of inbound travelers are unaware of transport options to reach Colorado ski resorts until they arrive at Denver International Airport. With this new partnership, CME will have access to more than 1,000 new sales channels through that one hub alone.
With Gondola Resorts expansion in 2011, the partnership further entrenches the company into Colorado business. With the vacation rental company now operating at ten different resorts in three states, it may look to expand human resources in sales and management. Its diverse portfolio of lodging solutions may also enable Gondola Resorts to expand its presence at other resorts serviced by CME including Vail and Beaver Creek.
"This new partnership with CME means that we will be able to expand our business by significantly increasing customer satisfaction for Airport transfers. We look forward to working with CME as we continue to grow our business in Colorado," said Malara.
About CME
Every year over 420,000 travelers choose Colorado Mountain Express for their airport ground transportation to and from Aspen and Snowmass Village, Vail, Beaver Creek, Breckenridge, Copper Mountain, and Keystone. Colorado Mountain Express offers up to 5 (season dependent) daily door to door shared ride shuttles and private car services from Denver International Airport (DIA), Eagle County Regional Airport and Aspen Airport. An unsurpassed safety record, flexible schedules, impeccably maintained vehicles and courteous, friendly drivers let you sit back, relax and take in our breathtaking Rocky Mountain scenery. Go with the leader in ground transportation, in business for over 25 years.
About Gondola Resorts
Gondola Resorts, Inc. provides vacation rental homes, condos and villas delivering on the promise of helping vacation travelers discover the alternative to small and confined lodging. Gondola Resorts is one of the leading regional lodging providers, offering rentals in some of the most spectacular resort locations in Colorado, Utah and Florida. Gondola Resorts is based in Denver, Colorado with partnership operations in Aspen, Breckenridge, Copper Mountain, Canyons, Deer Valley, Keystone, Orlando, Steamboat Springs, Summit County and Telluride.
###