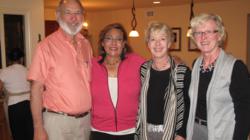 "Great Experience! Jodi gave us good advice and some wonderful recipes." Terry Whaley
San Diego, CA (PRWEB) November 08, 2011
Lajollacooks4u, a hand-on cooking and dining experience, was selected by four members of the Professionals of the Culinary Arts to enrich their cooking skills.
Carolyn Wyly, president of PCA said she enjoyed the entire experience. "It's important to capture the different styles of preparation and cooking all over the United States," said Wyly. "LaJollacooks4u gave us this opportunity and also provided the environment for a true hands-on cooking experience in a home kitchen," she said.
Wyly was joined by PCA board member, Terry Whaley, and by PCA members Mary Burnell and Elias Rodriguez, who owned a Mexican restaurant in Houston.
The group cooked a Fall-inspired menu of Roasted Pumpkin Soup with Floating Parmesan Baskets, Salad with Roasted Beets, Haricot Verts and Fennel in a Champagne Vinaigrette and Focaccia infused with Truffle Oil and Peptia Pesto followed. The main dishes were Herb Crusted Pacific Halibut with a Caper Vinaigrette and Rack of Lamb in a Herb Dijon Marinade. Dessert included Pears Blanched in White Wine with a Pecan Crumble and Chocolate Salami! The group engaged in cooking together and then dined on the delicious meal they learned to prepare complete with wines that were paired with the meal!
About PCA
PCA is an educational, mentoring and networking organization based in Houston. PCA is open to owners, operators, directors, culinarians, suppliers, and service professionals who are committed to a dynamic, educational, and interactive relationship with the food service industry and community. http://www.professionalsinculinaryarts.org
About Lajollacooks4u
Lajollacoks4u, founded in 2008, provides an ideal activity for couples,team building and any foodie looking for a cooking and culinary experience in an ideal setting overlooking the Pacific Ocean. Lajollacooks4u recently expanded and now offers Farmer Market Tours and unique "Foodie" tours of San Diego. Based in La Jolla, a suburb of San Diego, CA., Lajollacooks4u has enjoyed record growth since its inception and has been ranked the number one attraction in La Jolla on the popular travel review site, Trip Advisor.com. For more information, contact Jodi Abel at jodi(at)lajollacooks4u(dot)com or phone 1-858-752-4980.
###