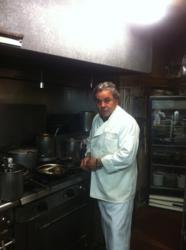 San Diego,CA (PRWEB) November 09, 2011
Jodi Abel, founder of lajollacooks4u, a cooking and dining experience, recently spent a week under the tutelage of Chef Mario Ascione, Owner and Founder of San Francisco-based restaurant, Macaroni Sciue Sciue and the Purple Onion.
Chef Mario, who was trained in Naples, Italy, came to the United States 30 years ago. Along with his wife, Stephanie, the couple have owned their famous restaurants for over 25 years and the establishments enjoys a dedicated following.
Chef Mario worked with Chef Jodi, teaching her the foundation of Neapolitan Cuisine. Chef Mario emphasized the importance and creativity of using seasonal ingredients and the secrets of fabulous pizza dough! Chef Jodi was asked to create one of her own recipes for the daily special. Using Chef Mario's renowned pizza dough, Chef Jodi prepared an appetizer pizzette with Gorgonzola, caramelized onions and fresh pears.
"It was an incredible week of learning and cooking," said Chef Jodi who added that continued education is the key to inspiration and new recipes. "I'm eternally grateful to Chef Mario for his time, patience and ideas," Chef Jodi said.
Macaroni Sciue Sciue and The Purple Onion are located at 124 Columbus Ave., San Francisco, CA 94133 For reservations and catering phone 415-217-8400 or email sciuesciue(at)caffemacaroni(dot)com, web site http://www.caffemacaroni.com
Lajollacooks4u, founded in 2008, provides an ideal activity for couples,team building and any foodie looking for a cooking and culinary experience in an ideal setting overlooking the Pacific Ocean. Based in La Jolla, a suburb of San Diego, CA, Lajollacooks4u has enjoyed record growth since its inception and has been ranked the number one attraction in La Jolla on the world's largest travel review site, Trip Advisor. For more information, contact Jodi Abel at jodi(at)lajollacooks4u*(dot)com or phone 1-858-752-4980, web site http://www.lajollacooks4u.com
# # #