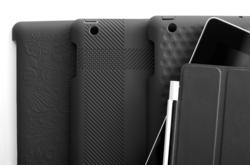 While others may protect the front, we've got your back!
Pasadena, CA (PRWEB) November 09, 2011
Bluelounge, the award-winning international design studio known for organization and Apple related products, today announced the market-wide availability of its latest iPad accessory, Shell.
Shell is a smart and comfortable textured cover worthy of protecting iPad. Durable and strong, yet light-weight enough to avoid bulk. The tactile design is finished with an attractive soft-touch paint, making this protective accessory a pleasure to hold and touch. Compatible with Smart Covers while closed or in use as a vertical or horizontal stand. Works with iPad without cramping any features or function. Snap on directly to the back of the iPad. Remove easily by snapping on or off. Gently protects the iPad's aluminum design with a touch of style.
"Our customers are looking to protect their iPad without compromising style or function," said Dominic Symons, Bluelounge Principal and Creative Director. "Our goal is to design products that enhance the digital lifestyle. Shells are completely compatible with Smart Covers and the tactile design is a pleasure to hold. While others may cover the front screen, we've got your back."
Price and availability
The MSRP for Shells is $29.95 and is available in six different subtle textures and patterns. Shell is available on the Company's website at http://www.bluelounge.com/products/shell/ and at retailers worldwide.
About Bluelounge
Bluelounge, founded in 1999 by designers Dominic Symons and Melissa Sunjaya, is a multidisciplinary design studio that creates a synergy of product, graphic, interactive design and original illustration. Bluelounge products are distributed through over 100 U.S. locations and 35 international distributors, promotional agents and licensees. Bluelounge Signapore and Bluelounge Design LLC has design studios and central offices are in Los Angeles, Singapore and Jakarta, Indonesia. In addition to their own branded products, Bluelounge has undertaken design commissions for major corporations such as Airwalk, Microsoft, Panasonic, and Trina Turk. To experience Bluelounge's stunning portfolio of home and office products please visit the online catalog at: http://www.bluelounge.com/products/.
To join the Bluelounge social media community please follow the company on Twitter at http://twitter.com/bluelounge and Facebook at http://www.facebook.com/Bluelounge.
Note to reporters: high resolution images of Bluelounge's products are available for download at http://www.bluelounge.com/media/
###