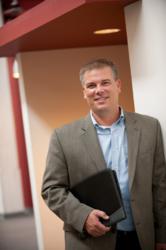 I wanted to create a company that would help organizations through this transition into new technology.
Baltimore, MD (PRWEB) November 10, 2011
LiftOff Plays Role of Cloud Enabler
As cloud-based IT systems become more accessible, businesses are moving in droves to these off-premise solutions. They realize the advantages in terms of cost, scalability and security that remotely hosted services offer. But, the solutions are not all the same and the choices can make for a complicated decision making process.
That realization led Ron Braatz to the founding of LiftOff, LLC, a Mid-Atlantic-based professional services firm, in order to bridge the gap between desire and know how. Liftoff not only provides the know how to get businesses to the cloud, the company's basic tenet is to educate its customers so they can prove that, truly, anybody can do this.
Braatz's background as a teacher — he has a Masters Degree in technology education from Johns Hopkins University, and taught computer science courses at the high school and graduate levels — is still visible at Liftoff.
"I wanted to create a company that would help organizations through this transition into new technology," Braatz said. "Companies may do a mail migration once every five to 10 years, so they may lack the expertise to do this correctly. And, we are going to surpass a hundred migrations this calendar year."
Braatz acknowledges that migrations are not simple or trivial. Careful planning is required and too many businesses find this out too late. This leads them to LiftOff.
"Some of our customers attempted to migrate their systems themselves, but they struggled. They were failing," Braatz said. "Migrating mail has permanent implications. When you make a mistake migrating mail, sometimes you can't undo it. We have been able to come in and course correct."
That is where the teaching comes in. Every assessment begins with a 41-question session that determines the customer's needs. Once the migration path is determined, the Liftoff staff goes onsite and begins to record key users into the new system — usually the IT staff. As this is taking place, those same staff members are being taught the procedures so they can take over the deployment and add the rest of the company.
"It is all about empowering the customer," said Brian Reilly, senior consultant at Liftoff. "We want them to understand what they have, how to deploy it and how to use it. The model doesn't mean we are onsite doing all of the work. We have trained them and then we've gotten out of their way so that they can do it themselves with the confidence that they are going to do it right."
Nearing 100 deployments, LiftOff has yet to encounter a single cookie-cutter situation. The next one is never exactly like the previous. Each client brings unique challenges to their deployment and all are met in the Cloud, using Microsoft technology. With organizations ranging from entreQuest, a management consulting company in Baltimore, to the United States Naval Academy Alumni Association and Foundation, to city governments, Liftoff's customers are proving that the cloud can help solve problems.
Regardless of their mission statements, they all need some level of security, scalability and reliability. Together, Liftoff and Microsoft's cloud technology may finally be the long-term solution they have been seeking.
Read the full case study here.
###