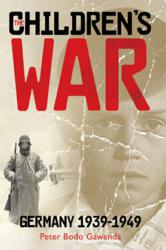 The Children's War is an unforgettable chronicle of how ingenuity and courage enabled a family to survive in unthinkable circumstances.

Robert J. Becker, Veteran journalist and former international wire news editor, Houston Chronicle
Dallas, TX (PRWEB) November 11, 2011
The Children's War: Germany 1939-1949 (Brown Books Publishing Group) by Peter Bodo Gawenda, Dean of the College of Applied Technology and General Studies for The University of Texas and Texas Southmost College in Brownsville, TX, takes a riveting look inside World War II through the eyes of a child. Based on his own real-life experiences, Gawenda, dramatically recreates his family's flight from the Russian conquerors in Oberglogau, Poland (now Upper Silesia) to Austria, a journey accomplished mostly by foot.
Richly detailed, Gawenda's compelling memoir about his childhood in Nazi Germany fills a niche largely overlooked by other accounts of that dark period. The Children's War is an unforgettable chronicle of how ingenuity and courage enabled a family to survive in unthinkable circumstances.
Separated from their soldier father, who had disappeared on the Russian front, the Gawenda family watched with horror as the revenge-bent Red Army smashed Germany's collapsing defenses. Gawenda recounts how his mother, Gertrude, gathered her young children and fled on a perilous wintertime journey.
"The most difficult part of telling the children's tale is to avoid introducing interpretations of the grown-ups, to remember what the child felt, how the child perceived, and how the child reacted, "said Gawenda. "As children, we made it our mission to be cautious and suspicious. We also thought that we had to make it our task to help our families survive, to escape death and destruction - that's how it became our war, the Children's War."
An uplifting reading experience, The Children's War is a tribute to the adults who protected and nurtured youth during WWII, particularly the Gawenda parents, grandparents, and those who gave them refuge. The strength of those family ties carried them through the War and shaped Gawenda's childhood perspective. While the family journey lasted only eight month, its lasting impact remains to this day.
Peter Gawenda resides in Brownsville, Texas where he is Dean of the College of Applied Technology and General Studies for The University of Texas at Brownsville and Texas Southmost College.
For further information visit: http://www.thechildrenswarbook.com
About Brown Books Publishing Group:
Brown Books Publishing Group is a Texas-based, independent publisher providing manuscript development, editorial expertise, website design, cover design, fulfillment and distribution, as well as marketing and public relations. A referral-only publisher, Brown Books has ushered in A New Era in Publishing™ where authors who've chosen to retain the rights to their intellectual property are invited to participate in the publishing process from start to finish. Relationship publishing is the mainstay of Brown Books Publishing Group and its many imprints: The Small Press, Brown Christian Press, Brown Books Digital, and Personal Profiles. For more information about BBPG visit http://www.brownbooks.com or to schedule an appointment with the publisher, Milli Brown, please contact Rayven Williams at rayven(at)brownbooks(dot)com or 972-381-0009.
WORLD WAR II THROUGH THE EYES OF A CHILD
THE CHILDREN'S WAR: GERMANY 1939-1949
The True Story of Peter Bodo Gawenda
# # #