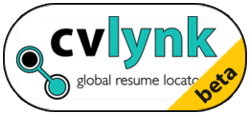 "Any job seeker who is not using Twitter is putting themselves at a huge disadvantage." - Joshua Waldman, author of Job Searching with Social Media for Dummies
Palo Alto, Calif. (PRWEB) November 10, 2011
Through Cvlynk (http://cvlynk.com), the connection engine and redirect service simplifies and accelerates profile sharing, career professionals can direct hiring managers and recruiters to their preferred profile, résumé, corporate bio, or personal brand in one-step by just using their Twitter handle. There are no mistaken identities since Twitter handles are specific to the individual.
Easy To Use
It takes just a few minutes to register and configure a link to an online profile, which can be changed at any time. Cvlynk enables individuals to use whatever online profile tool best serves their interests, while maintaining a consistent and direct mechanism in which hiring managers and recruiters can access their most current information. To connect their Twitter handle to their preferred online profile, Cvlynk takes career professionals through a very simple, guided setup.
Supports Recruiters Selection Process
For job seekers looking to take their Twitter job hunt to the next level, Cvlynk users can @reply to a tweeted job ad with just a 140 character micro-résumé or summary. Because the hiring manager or recruiter now has the potential candidate's Twitter handle, he or she will have a one-step connection to their current résumé no matter where it is stored in the future.
"In today's fierce job market, job seekers need every available tool to get ahead of their competition. And since reports indicate that recruiters spend about 10 seconds to make a 'keep' or 'discard' decision, using a micro-résumé or summary on Twitter in combination with Cvlynk is effective and efficient in an accelerated job search process," said Ray Kasbarian, founder and CEO of Cvlynk.
Users Have Master Switch
Once configured, Cvlynk users can change the location of their preferred profile link at any time without having to notify anyone in their networks. For instance, a CEO on a road show or tour can redirect recruiters to an online presentation of a video interview, and then reestablish his original profile connection after the news window has passed.
Availability Status Indicator Helps Both Job Seekers and Recruiters
Cvlynk has a special display panel that shows an individual's current job availability. In addition, there is an anonymous message feature that can request an update in real-time. During the job search, candidates can indicate their availability for full-time, part-time or contract work. And once a candidate has secured a job, he or she can change the status indicator to signal hiring managers and recruiters that they are no longer on the market, thus avoiding unwanted calls.
Experts See Value
Joshua Waldman, author of Job Searching with Social Media for Dummies, said, "Twitter is one of the key tools for opening up the hidden job market. There is no other medium in the world that offers job seekers a real-time look at what is going on in the hiring world. Any job seeker who is not using Twitter is putting themselves at a huge disadvantage."
About Cvlynk.com
Founded in 2011 and headquartered in Palo Alto, Calif., Cvlynk answers the question "Where Can I Find You On The Web?". The company is developing many additional applications that will be built around its breakthrough, patent-pending, one-step connection methodology that links Personal Digital Indexes™ to online profiles and other data. For more information, visit http://cvlynk.com.
###