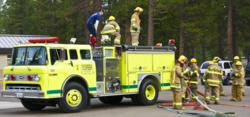 Dunsmuir, CA (PRWEB) November 23, 2011
Interested in becoming a firefighter? Got what it takes? FireWhat Inc. has the job search tools to start a career.
Cal-Fire opened its seasonal positions for the 2012 wildfire season. The job postings will be held open for application until January 31, at which point interviews begin.
Cal-Fire employs some 4000 firefighters every summer, a huge boon to California's struggling economy. The seasonal positions attract those with absolutely no fire experience to multi-year veterans.
Applicants to Cal-Fire must be eighteen years old and have earned a high school diploma or GED. Training is not provided, but all those accepted will be asked to go through a sixty-seven hour Cal-Fire Basic Wildland Fire Course, available at fire science programs in schools and colleges throughout the state.
FireWhat Inc. has developed a firefighter jobs search page for firefighters around the country. The new webpage includes firefighter departments from coast to coast, in an easy, searchable format. To search for Cal-Fire positions, check out this firefighter jobs link. The site is completely free.
Want to learn more about how to be a firefighter? Firewhat.com's firefighting training provides free materials to help. Uploaded PowerPoint presentations and articles from all over the country can help a student or professor gain additional insight into the material classes are teaching. Content is added daily, and the site is designed for interaction.
Good luck, applicants, the waiting list is long. For every position filled in Cal-Fire, literally thousands of applications are received. For advice on how to fine-tune an interview and get noticed, check out free career advice from FireWhat.
About FireWhat Inc.
FireWhat Inc. is a start-up company founded by an MIT grad and two professional firefighters. FireWhat's mission is to provide a professional platform that inspires the highest quality of emergency service training and education. Through development of web and mobile products, FireWhat Inc. seeks to update the antiquated delivery of emergency services training and to incorporate innovation into a technology-deprived industry.'
###