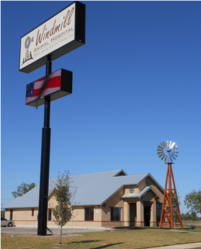 We love the Big Country and are proud to bring our brand of vet care to this area
Abilene, Texas (PRWEB) November 14, 2011
Dr. Janice Price brings state-of-the-art family pet care to Abilene. Her Windmill Animal Hospital is set to have their Grand Opening, Ribbon Cutting and Open House on Tuesday, November 15, 2011, from 4:00pm to 6:00pm. Windmill Animal Hospital is located at 2 Windmill Circle, Abilene, Texas.
Windmill Animal Hospital is Dr. Price's 5th small animal hospital location. After building 3 practices in West Houston, and one in the DFW area, she brings Windmill's distinct style of veterinary care to the Big Country.
Dr. Price is a 1984 graduate of Texas A&M's College of Veterinary Medicine. When asked why she wanted to build and practice in this area, she says "We love the Big Country and are proud to bring our brand of vet care to this area. My husband wanted to retire to our ranch south of Abilene, but I was not ready to quit practicing". She adds "by the way, Dale (her husband) is no longer retired! He keeps all the mechanical and technical systems running, along with keeping the web site up to date!".
Dr. Price and Dale are no strangers to animals as family members. She says "we raise and show AKC champion Norwegian Elkhounds, along with raising, showing and field trialing AKC champion German Shorthaired Pointers. I also have two Maltese, two wonderfully wild cats, three ranch horses and a pond full of Japanese Koi. Feeding time is really something!".
Windmill Animal Hospital features a full in-house laboratory, digital x-ray, laser surgical services, sophisticated patient monitoring, advanced pain management, complete ultrasound services, and fast-recovery Sevoflorane anesthesia. Windmill's staff is composed of experienced, dedicated Veterinary Technicians with over 46 years of combined experience.
Windmill Animal Hospital offers all-breed dog and cat grooming by Kameron Evans, their pet spoiler extraordinaire.
Dr. Price adds that Windmill has safe, clean, fully air-conditioned and heated boarding facilities.
Windmill also features thier own online pharmacy, offering pet medicines, supplies and diets at even lower prices than the nationally advertised online pet pharmacies.
You can learn more by visiting Windmill Animal Hospital online at http://www.WindmillVet.com. Windmill Animal Hospital can also be followed on Facebook and Twitter
For a interview with Dr. Price or more information, please email Dale Price at info(at)WindmillVet(dot)com or telephone at 325-698-8387.
About WIndmill Animal Hospital. Windmill Animal Hospital is a wholly owned subsidiary of Janice W. Price, DVM PC, a Texas Professional Corporation.
###