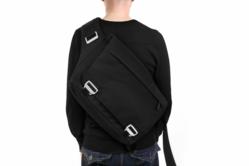 A collection of modern, eco-friendly, versatile bags for the digital lifestyle
Pasadena, CA (PRWEB) November 14, 2011
Bluelounge, the award-winning international design studio known for organization and Apple related products, today announced the market-wide availability of its latest product line, Bonobo Series, contemporary urban bags for transporting and commuting digital needs and everyday gear.
The Bonobo Series is a collection of timeless pieces to transport and protect life's necessities for work, play or travel. These true commuter transporters are padded to protect laptops, iPad and more. Custom design elements, 100% Recycled PET fabric and styling details throughout each bag remain true to function to blend utility and style. A blend of craftsmanship, design and style manifest itself in this collection of protective sleeves, totes and messenger bag.
"Bluelounge makes practical lifestyle products for everyday use," said Dominic Symons, Bluelounge Principal and Creative Director. "The Bonobo series represents our foremost design effort to produce products that enhance the digital lifestyle. Each piece was carefully crafted from innovative durable fabrics woven entirely from recycled post-consumer PET Bottles. The soft-touch fabric is ecological, stylish and built to last. Our finest work that defines our philosophy of balancing utility and elegant design"
Price and Availability
MSRP ranges between $44.95-$149.95.
Laptop Sleeves available in different sizes to accommodate 13", 15" & 17" MacBook Pro or iPad. The Vertical Totes are available in Small or Large sizes to also accommodate MacBook Pro. The Messenger Bag is one size fits all and fits up to a 17" MacBook Pro. This collection is available on the Company's website at http://www.bluelounge.com/products/bonobo/ , on display at the upcoming WIred Store on 42nd & Broadway in New York City and sold at retailers worldwide.
About Bluelounge
Bluelounge, founded in 1999 by designers Dominic Symons and Melissa Sunjaya, is a multidisciplinary design studio that creates a synergy of product, graphic, interactive design and original illustration. Bluelounge brand products are distributed through over 100 U.S. locations and 35 international distributors, promotional agents and licensees. Bluelounge Singapore and Bluelounge Distribution LLC have offices are in Los Angeles, Singapore and Jakarta, Indonesia. In addition to their own branded products, Bluelounge has undertaken design commissions for major corporations such as Airwalk, Microsoft, Panasonic, and Trina Turk. To experience Bluelounge's stunning portfolio of home and office products please visit the online catalog at: http://www.bluelounge.com.
To join the Bluelounge social media community please follow the company on Twitter at http://twitter.com/bluelounge and Facebook at http://www.facebook.com/Bluelounge.
Note to reporters: high resolution images of Bluelounge's products are available for download at http://www.bluelounge.com/media/.
Media Contacts:
Angel Castellanos
Bluelounge
(626) 584-0254
angel(at)bluelounge(dot)com
# # #