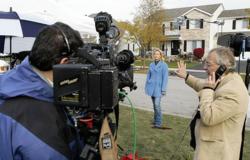 Twelve year old Sneha Hoysala says, "When I was reading KenKarta, I was hooked. I loved the beautiful drawings, the new creatures that I've never seen before lurking in the pages. It's THE best book I've ever read!!!"
Chagrin Falls, OH (PRWEB) November 14, 2011
From making documentaries for PBS, to producing and reporting for network news outlets such as NBC, ABC and CBS, Alison Kartevold's career as an Emmy award winning journalist has taken her across two decades and five countries. Now she can add award winning author to her resume. Her first book, KenKarta: Battle of the Onxomon has just won a bronze medal from the Moonbeam Children's Book Awards in the category of "Best First Book – Chapter Book".
Kartevold says she ventured into the realm of fiction at the request of two collaborators she could not refuse. "KenKarta began as a private fairytale I made up for and with my daughters, five years later, it's grown into an award winning novel that kids everywhere can now enjoy. I've got to admit, that feels pretty awesome!" http://kenkarta.com/behind-the-book/
KenKarta: Battle of the Onoxmon, brims with both dark and fanciful events and characters that the trio dreamt up together. Fueled by the imaginations of her two young daughters, Kartevold created a spectacular fantasy world where in tweens and teens can revel. Twelve year old Sneha Hoysala says, "When I was reading KenKarta, I was hooked. I loved the beautiful drawings, the new creatures that I've never seen before lurking in the pages. It's THE best book I've ever read!!!"
The 2011 Moonbeam Children's Book Awards attracted more than 800 entries from throughout North America and the English-speaking world. Organizers say the awards are intended to bring increased recognition to exemplary children's books and their creators, and to celebrate children's books and life-long reading. Each year's entries are judged by expert panels of youth educators, librarians, booksellers, and book reviewers of all ages.
"Watching our kids read them, and hearing the laughter and seeing the tears, you know these books make a difference." says Jenkins Group founder Jerrold Jenkins, father of four children ranging in ages 9 to 19. "We created the Moonbeams to reward these special books and bring them to the attention of parents, booksellers, librarians - and especially to young readers." This year's Moonbeam Awards medal ceremony was held in conjunction with the 2nd annual Traverse City Children's Book Festival, on Saturday, November 12, 2011, in Traverse City Michigan. Kartevold attended the event with her family.
Alison grew up in the Inland Northwest but has lived in eight different states from coast to coast. While writing KenKarta she lived in Pittsburgh PA, and now resides in the Cleveland, OH area with her husband and daughters. For more information about Alison Kartevold and KenKarta: Battle of the Onoxmon go to: http://www.KenKarta.com. Media inquiries can reach out to Ms Kartevold at alisonkartevold(at)gmail(dot)com or Sherry Linger Kaier of the Artist's Orchard at pr(at)theartistsorchard(dot)com
See or download the complete contest results here:
http://www.independentpublisher.com/article.php?page=1483
http://www.moonbeamawards.com/2011_Moonbeam_Results1.pdf
###